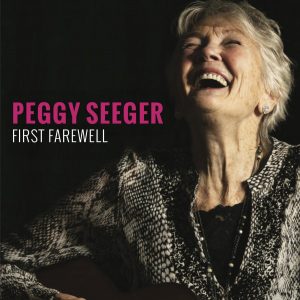 Her voice is clarity personified. She still sounds playful but laced in wisdom. Peggy Seeger might be American by birth, but has lived in Britain for over half her life. At the age of 85, with 68 years of recording and performing behind her, she'd be forgiven for putting her feet up and watching the sunrises come and sunsets go. Here, on her 24th solo album, the truth matriarch of folk music doesn't sound like she's ready to leave the stage quietly.
"I was here for the birth of my children, I was here for the belle of the ball/eighty long years have gone by in a blink of an eye/now it seems I'm not here at all" she sings on the second track 'The Invisible Woman'. A song sung by a woman of a certain age, one that's totally under represented in song. First Farewell, trumpeted as Seeger's last recordings, is truly a family affair. Written and recorded alongside her immediate family members, sons Calum and Neill MacColl, both established musicians and songwriters in their own rights and Dream Academy member Kate St. John (Seeger's daughter-in-law).
Seeger has never followed traditional paths. She's broken several glass ceilings along the way too. After first being asked to travel to England by the legendary song collector Alan Lomax, she eventually fell in love with Ewan MacColl. A marriage of convenience followed to keep her in the country, but their paths eventually led them to being wed from 1977 to his death in 1989. She stayed in Britain for a long time and, after a brief period back in North Carolina and Massachusetts has lived in Oxfordshire since 2010.
First Farewell is also one of her first to celebrate the fact that she's a classically trained pianist, none more so on 'Lullabys for Strangers' – "Now here the dark nights come so early…kissing shadows always wanting more" and 'One of Those Beautiful Boys', which have more in common with the Great American Songbook than any folk song that she's better known for.
'How I Long for Peace' is a song which wears its heart and humanity on its sleeve. A song about community and belonging. Accompanied by a simple piano backing, Seeger laments "that there will never be peace, till men abandon fighting, as the way to deal with problems that prevent us from uniting". The album finishes with 'Gotta Get Home by Midnight' with Seeger as Benjamin Button, as she races back through her ages as long as she gets home before the end of the day.
If this does turn out to be her curtain call, she should be leaving to a rapturous ovation. First Farewell is everything you could hope such an album could be, and a thousand times better still. Seeger represents the best of us, and that's worth all the applause you can muster.