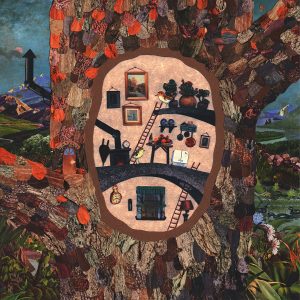 A cold-blooded writer would call Sara Watkins' Under the Pepper Tree one of the sappiest records ever made. However, for those of us who still appreciate a classic melody, along with a tune that has withstood the march of time, this set of music offers something very special. Provided the chance to investigate over 150-years of music, Watkins has created a collection that she envisions as "a place of calm, imagination and relief…I wanted record songs for families." While the album is child-centred, it isn't strictly a disc for kids.
Certainly, Willy Wonka and his chocolate factory were a refuge for children, yet 'Pure Imagination' with its strings and bells hews toward a more adult demographic. From Peter Pan, 'The Second Star to the Right' spans the ages, especially thanks to an incredible violin solo by Watkins. The schmaltz level of 'Blue Shadows on the Trail' is incredibly high, just as Randy Newman intended it. With her Nickle Creek buddies, Chris Thiele and Sean Watkins serving as her backing band, they carefully avoid falling into that trap.
With an introductory violin solo by Watkins, followed by the Sara Watkins one-woman choir, the opening half of 'Edelweiss' is an unexpected gem, made even sweeter by her three-year-old dueting with her on the second half of the song. Virtually unrecognizable at first, 'Moon River' has rarely sounded sweeter or more sincere. Clocking in at a mere 1:10, 'Under the Pepper Tree' is a master class in creating a violin solo. Opening on what would appear to be a country framework, the song wanders away from its country roots, growing in emotion with every step. I can't imagine that Jiminy Cricket ever dreamed of a guitar solo as tasty as the one inhabiting 'When You Wish Upon a Star'.
Concluding the album the only way you possibly could, with a rendition of the Beatle's 'Good Night' reveals many of the secrets that make this album such a pleasure. Watkins and her selection of guests, including her bandmates in I'm With Her, never over play their hand. While quite often they provide new frameworks to the selections none ever feel out of place. Another musical gift is the way songs segue into one another like a perfectly sequenced collection.
In the wrong hands, Under the Pepper Tree could have easily gone off the rails, a victim of unfulfilled good intentions. Yet the power of the players and their ability to transform classic material and not only revive it, but reimbue it with a sense of wonder, warmth and wisdom illustrates how talented Sara Watkins truly is.