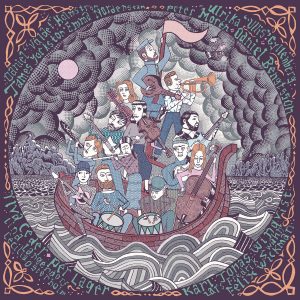 "I hope I can tell you that I love you, when you are too old to be told" – Struggle
An album about the ageing process, past loves and friends who are no longer with us, The Wide, Wide River came into existence thanks to the friendship between James Yorkston and Karl-Jonas Winqvist, the Swedish music producer, band leader and conductor of the Second Hand Orchestra. All the songs were improvised on the spot, the orchestra having only heard the opening track 'Ella Mary Leather' before entering the studio. It was recorded and mixed over the course of three days and has a very loose, welcoming, free-spirited vibe running through each song.
James Yorkston came to the public's attention first through being an early member of the Fence Collective – the name given to those artists associated with or on record label Fence Records. These included The Beta Band, KT Tunstall and King Creosote. He's come a long way since the Simon Raymonde-produced debut effort Moving Up Country, which became Rough Trade Album of the Year in 2002.
Beautiful and poetic throughout, both in melody and word, those who know Yorkston's previous recordings will know that this is something he has delivered over the course of his wonderful two-decade career. In interviews for the album, Yorkston has celebrated the communal feeling in the studio, watching the orchestra recording parts for the song 'Struggle' whilst drinking sweet tea and waiting for the right moment to jump in. He said it was "like when I'm pushing my kids round on a roundabout in the local park".
The album is aptly named as, over the course of 9 songs, you feel like you're on a journey with old friends down a wide river. Whether it's in the love for 'Ella Mary Leather' (though only on certain days of the year) or in career high point 'There Is No Upside' – 'between those who stay/and those who leave/I remain/but we got swept away". His songs have been described as being "tinged with melancholy and mystery" and it's no different here. Yorkston is a Grade A songwriter, one who should be celebrated more throughout the musical world.
The Wide, Wide River is exactly the album we need in January 2021. It's full of warmth and comfort, from the gentle instrumentation, through the sublime harmonies and to the sanguine vocals. Yorkston has described the album as fast-footed and free-wheeling and I couldn't agree more. He simply played them the songs and then trusted them to find their way through them as he hit record. It's my absolute pleasure to introduce to you the first great release of the year.