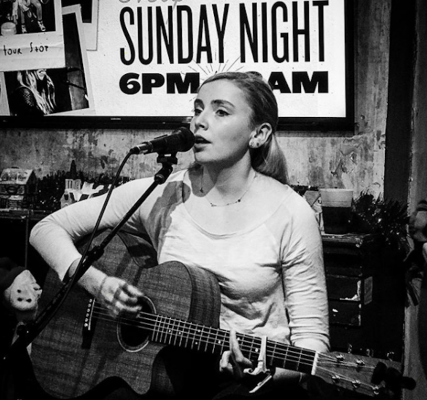 Winding up to the 29 January release of her debut EP, Molly Murphy's road has driven her from the historic shores of Fairfield, CT to Nashville. There in Music City, the forthcoming folk-rocker finds her digs at the Hopsmith Tavern, where she books a weekly writers round. Moreover, Murphy has used her nascent celebrity to the advantage of Fairfield's small businesses and community organizations, having run a grassroots music fundraiser to benefit them throughout the ongoing coronavirus pandemic.
Meditative and hearty, What You're Living For impresses as Murphy's debut EP. Its primary influence is 60s-era contemporary folk. For an era as well-loved and explored as the hallowed grounds that Mitchell and Baez have walked, Murphy adroitly averts the twee and saccharine. It feels familiar, but individual passions set it rungs above retro mawkishness. Murphy's music calls back to a golden age of folk, but doesn't fall into the pitfall of imitation.
Much of that is to credit to her earnest delivery. Center-most to the striking musical realms that Murphy invokes with each arrangement is her voice, Throughout jangling mid-tempo Americana jams and grungy, self-reflective invocations, it's her lilting tone that maintains as a constant. Ergo, she shines throughout, leaving a firm impression on the For Folk's Sake squad and having us yearn for more — even before the EP's official release!
What You're Living For takes a page from its influences' playbooks and is recorded to tape, producing an earthen sound rarely explored in today's overarching scene. 'What You're Living For' and 'Wildflower Girl' was co-written by Murphy and Koli Kohler; 'Farsighted' was co-written with Johnny Gwynn.
In anticipation of the For Folk's Sake premiere of What You're Living For, Murphy is the latest to join the ranks of our ongoing 'FFS 5' interview series. Herein, we are given an exemplary look into the singer-songwriter's artful heart; from the offbeat path that led her towards creating music, to her infectiously hopeful disposition.
Fans of Murphy's sound can keep up with her music via her website.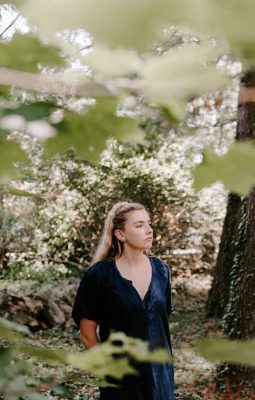 Please tell us a bit about yourself. Where are you from and how did you get started in music? Any defining moments along the path to present day?:
I actually have a unique path to music. I went into college with the intention of becoming a screenwriter. I had always loved writing, and even though I loved music too I never thought of it as a viable option.
In college, though, started to hit a lot of blocks both personally and professionally. I realized that I didn't love screenwriting, or the film industry and I started to suffer from anxiety. During that time, I just kind of hit a "screw it" point and turned to the one thing I'd deep down always wanted to do, which is music. I ended up getting a grant from The University of Notre Dame to go to Nashville for a summer and work for a music publishing company.
At the end of the summer, I gave my songs to the head of the company and asked for feedback. I was prepared for the worst, but it ended up being very encouraging. After that it was pretty much off to the races. I joined a band and did both solo acoustic performances and full band sets around my college town. I moved to Nashville after graduation and it's definitely been a challenge, but I think that I've improved drastically just from being around so much talent.
As an artist, how do you define success?
Success for me is all about improvement. Someone once said to me "chase, hone, perfect," and it has stuck with me ever since. It basically means find your own unique voice and then chase it, hone it and perfect it.  If I end each day slightly more honed than I was yesterday, I've been successful.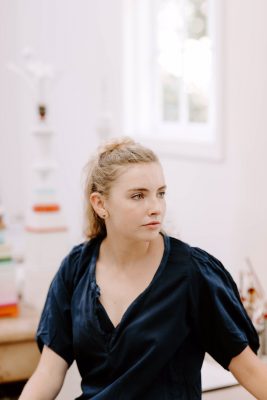 What do you find your greatest struggle to be when it comes to the music business?
My greatest struggle in the music industry I would say is my confidence. I'm working on standing more firmly behind my music and my sound.
What do you think is the most realistic goal you can achieve as an artist and as a band? What do you hope to achieve?
I've never really loved the term "realistic" because I think sometimes it's an excuse for people not to dare to be great. But I would say that it's realistic to think that I can develop more of a niche fanbase in the next few years. The ultimate goal for me would be to be respected in the industry as someone who creates music with true artistic merit.
Outside of music, what do you like to do that you feel contributes to the creativity that you tap into for your music?
Visual art has always been my favorite hobby. My mother is a visual artist, and when we were kids we'd go into her studio and spend hours making collages and pictures. It has always been play for me and I continue it as an adult to decompress. It also helps me with music because I see my songs visually and often think of songwriting as just a different medium of visual art.
Words by: Jonathan Frahm