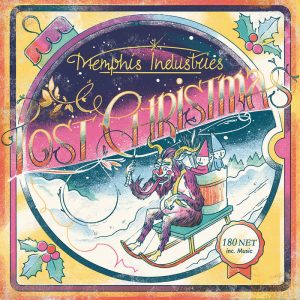 We've been counting the days until Christmas even more eagerly than usual this year, our impatience to reach December 25th probably directly connected to our desire to see in January 1st and say good riddance to the whatever 2020 was supposed to be. So as the advent calendar doors begin to open and the Christmas records hit the turntable, a little spring returns to our steps in these difficult times.
Sure, Christmas isn't going to look anything close to normal this year. We'll replace arguing over board games with buffering on video calls, forsake big family gatherings for something smaller. But not everything has to be a downgrade, and we can still fill our ears with some wonderful music.
Here to help in that cause comes Memphis Industries as the indie label corrals some of their top talent to bring us a festive selection. Over the course of 10 tracks, they deliver a mostly original, mostly upbeat set with a little something for just about everyone.
Field Music open things up with some impeccably marshalled pop hooks on 'Home For Christmas' before the serenity of Haley's 'Like Ice And Fire'. The collection retains a freshness throughout with constant change of pace and contrasts in style. Rachael Dadd, Rozi Plain and Kate Stables hook up to provide one of the highlights in 'We Build Our Houses', its pulsing beats the foundation for beautiful melodies and instrumental flourishes.
There's also the unfamiliar familiar – the Phoenix Foundation bring their voice decoder to 'Have Yourself A Merry Little Christmas' while Jesca Hoop delivers a lush take on Fleet Foxes' 'White Winter Hymnal'. At 34 minutes, the collection is short but more than sweet, full of tracks you'll be returning to for many Decembers to come. As it draws towards a close, The Go! Team offer us 'Look Outside (A New Year's Coming)'. It seems it can't come soon enough, but this will do just fine in soundtracking the wait.