"I used to watch Gunsmoke with my little brother who is only 14 months younger than me. We beat the shit out of each other all the time. I sent him to the hospital once covered in blood. About when I was thirteen we somehow understood we were two sides of the same coin. From then on, we had each other's back. He had some tough years, and I thought we might lose him. It was like I was going to lose part of myself."
So says Marco North—better known by his stage name, Martin Ruby—of his stunning new music video for 'Kodachrome Shangri-La'. Written and directed by the artist himself, the video features gorgeous imagery that assists in conveying the folk tune's meditative path. The tune is wistful without being saccharine, ominous without being uninviting, and exemplary of Ruby's balanced and emotive songwriting capabilities. It's a beautiful piece of work, having first appeared on Ruby's debut LP, Heaven Get Behind Me, on 20 Nov.
In celebration of the premiere of 'Kodachrome Shangri-La' on For Folk's Sake, Ruby worked with us to answer several questions pertaining to its release—as well as his work and life at large. The first five are the latest addition to our ongoing 'FFS 5' series, wherein we ask each artist the same set of questions, while the remaining two give greater insight into his harrowing background.
Please tell us a bit about yourself. Where are you from and how did you get started in music? Any defining moments along the path to present day?
I'm a New Yorker (born in Brooklyn). I come from a tone-deaf family, but there were always good records around. When I was a kid – Billie Holiday, Sonny Terry, Dory Previn or Bob Dylan would be on the turntable at any given moment. I started with the saxophone when I was seven, playing in bands as a teenager but I think the defining moment for me was opening up for Miracle Legion in '86. They just tore up the stage – it was music that sounded so authentic and raw to my young ears. Mark Mulcahy stands for everything I aspire to. He is so human, so funny, so heartbreaking and his songs just haunt me.
As an artist, how do you define success?
Respect from your peers is something we all want. I also think success is being able to take risks, not to just revisit what you know you can pull off. Success might be the ability to take a leap of faith in yourself. Maybe success is someone (including you) just believing in what you are doing
What do you find your greatest struggle to be when it comes to the music business?
Just like the indie dramatic filmmaker or the literary novelist, a musician that wants to make an uncompromising, ambitious ALBUM is a rare bird. Creating subtle work is a great way to get lost in the ruckus of pop stardom and the cult of personality machines that drive people's attention these days. But you have to follow your muse, no matter where it takes you. I know I'm in good company, which helps a lot – but the struggle is to avoid jumping up and down saying "Hey hey! Wonderful, intimate, personal songs over here!" It's maddening.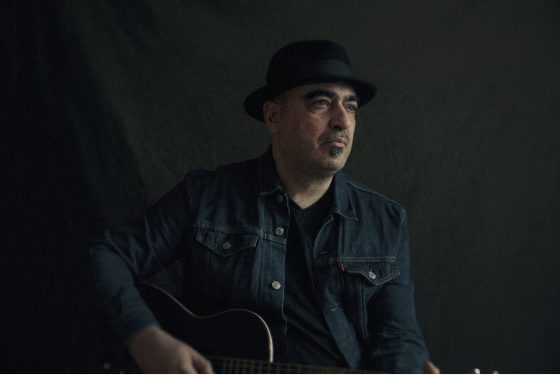 What do you think is the most realistic goal you can achieve as an artist and as a band? What do you hope to achieve?
Out of the gate, the best thing I heard was that my debut album has a fully realized sound, and voice. I did not want to make a promising first effort, I wanted to make a freaking album. So far, so good. My next goal is to find a way to make big songs, not just tiny, hushed epics. I don't know how to sing big yet, without yelling (and no one needs to hear that). Aside from all that, I'd just love to have some bittersweet song of mine over the end credits of a great film. That's high on my bucket list.
Outside of music, what do you like to do that you feel contributes to the creativity that you tap into for your music?
Well, I am of those multi-hyphenate artists (I wish there was a better term for that). I make films, I make photos, I write books. It all goes into one bucket is the thing, and they all feed into each other. I make music that is often called cinematic. I make films that are pretty atmospheric. My photos and my books are about the little details in life, wet glasses drying on a dishtowel, a story about a guy who loses his wife and kid. They're all songs. They're all movies. They're all hard luck stories.
It might be fair to say that you've had your fair share of harrowing life moments. How have your experiences informed your art?
I was just saying in my new behind-the-song podcast SONGBIRD that pain is pain. You can't compare your pain to anyone else's. There are just people in pain and people who are kind of doing ok. I've seen my fair share of loss and betrayal, brushed up against my mortality – the fortunate result of all this is that I can write and sing about what I took away from all that, what I understand from the inside. At first glance, I sing a lot of sad stuff. But once you dig in, you still might say – yes, I sing about the sad stuff that happens, but more about how we manage our personal train wrecks, and how that is really just up to us. There is something about making a confession and coming clean that (on a good day) just fills the room with light. I often use the word "grace" in this album. We all want to find it, especially people that have wrestled with their own demons.
'Kodachrome Shangri-La' is a gorgeous production; its music video, in my opinion, gives watchers and listeners a full breadth of what you are about artistically. I understand that you had written and directed it yourself! Can you give us some insight on what that was like?
Thank you! The song somehow transformed from a shy little demo into this little opera about these two brothers. I have a younger brother, we are just 14 months apart and although we are so very different, you can easily say we are two sides of the same coin. I was getting ready to make the music video when Covid happened, and I have a little greenscreen at home that has been used on a lot of my films, so it came out one more time. I play these duplicates of myself as a little gesture to the similarities between the two brothers. The horse playing drums, though – that was an idea that just flew in the window. As the lyrics go: "Frankenstein was the name of the doctor/ the monster had no name" I think that's what got me online, trying to somehow order a horse head mask. Like a lot of my songs from this album, it lent itself to being set in a murky fairy tale world. It's about that adult wish for innocence, and how we know you can't put the toothpaste back in the tube. The compositing (combining the footage with all of the still photo elements) took a good two months. I just threw everything I had at it until it was done. Then, I just stepped back and sent it to Bunky Hunt, from my new label WhistlePig Records. It was a deeply satisfying moment. 
Words by: Jonathan Frahm