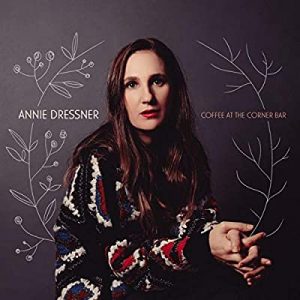 First, a disclaimer: Annie Dressner became a good friend after I first reviewed her for For Folk's Sake, and I took part in her music video for 'Pretend', made under lockdown. Coffee At The Corner Bar is a continuing evolution of her sound, which hinges on melodic hooks paired with unflinching emotional honesty. The result is like meeting a ghost inside a pillow fort – soft and haunting.
'Nyack' is a nostalgic trip back into childhood holidays, its wistful lyrics surrounded by a rippling pool of glittery accompaniment. 'Dogwood' is slower and gentler despite its dark plot, its light guitars circling a ghostly forest: "And I thought you would be here, beneath the dogwood", she sings. 
'Midnight Bus' is one of the strongest songs here, offering the kind of slice-of-life that Dressner excels in, with a sharp, evocative eye for people and their stories ("go through the characters in my head, re-analysing what each one said"…). The track spins into expansive refrains and unexpected meetings, as Dressner's clear voice duets with guest vocals from Matthew Caws. 'Secrets, Tell Me Lies' is strong and relatively spare, using a thorny rose as a metaphor for the secrets we keep, and 'Beyond The Leaves' features an addictive, unexpected transition into a newly hypnotic refrain shortly before it concludes, leaving me wanting more.
While Dressner seeks harmonious and soothing sounds, her work is not predictable or rote, and these moments of surprise lift her songs up like feathers. Her cover of 'The Book Of Love' turns a wedding lyric into a tender lullaby to her children, and 'Quiet' is wonderfully rhythmic. Compared to some of her earlier work, she also allows songs to unspool more, into new melodies, rather than returning to an earlier refrain. As her songs continue to grow and change, Dressner could allow more flashes of musical rawness to match her lyrical honesty. In this album's sadder moments, there is sometimes a sense of lush melody and light beats layered repeatedly over hurt, trying to offer comfort to the listener, when the music could be capable of holding discomfort more starkly, in stripped-back moments. The record's closer, 'Losing You', is an unflinchingly vulnerable song about the long evolution of grief, that I've seen reduce grown men to tears. Annie Dressner is allowed to break our hearts.