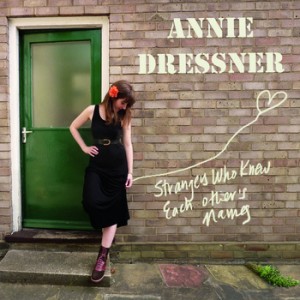 Annie Dressner's debut album begins with 'Fly', the premise of which is familiar enough – young adulthood as a kind of flight – but it feels fresh. Her sound has the atmosphere of a teenage film, veering from poppy to wistful; childlike lyrics ("I don't wanna fall down") clash with maturity. Singing about fear, she's calm, and this stops 'Fly' from feeling saccharine. The anxiety may be real, but there's also a sense that she can handle it.
Dressner's style has been described as 'conversational', which is about right; songs are often addressed confessionally to another, imagined 'you'. She recently relocated from New York to the UK, and homecoming – looking for home, finding it – is a bit of a recurring theme. Some songs might benefit from more shifts of pace – 'When I See Stars' and 'Cigarette' start to drag a little, for me – but the album as a whole holds its own. In title song 'Strangers Who Knew Each Other's Names' she sounds completely at ease, and 'With You' feels almost prairie-like in its soothing rhythm.
This album may not be radically breaking any moulds, but Dressner doesn't really need to, as she has an assured and individual voice, sweet but strong. She reminds me a bit of Kimya Dawson and Hop Along, but they're both more whimsical, less direct. 'Morning in Brooklyn' is lovely, as is, for me, the strongest song on the album (and its finale), 'How Am I Supposed To Be?'. Singing about uncertainty, "I'll look for you in me" is one of the more simple and powerful lines on loss that I've heard in a song.
Words: Becky Varley-Winter