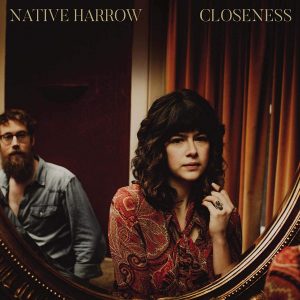 Closeness can be a tall order, especially during the ongoing pandemic, but for Native Harrow Closeness is pretty much all there is. The clock is constantly moving ahead, but as singer Devin Tuel notes, "while the clock is moving, we can hold on to one another, and maybe there will be tears, but there will also be laughter." That's a perfect way to describe this album, the fourth for Devin and her partner Stephen Harms. The human condition is always in doubt, so moving on, and hopefully forward, is really all we can do.
Leading off the album with a blaze of electric guitar, 'Shake' delves into the world of anxiety and sting that comes with absence. Awash in keyboards and drums, it brings with it the sense of discomfort that can be felt with the buzz of the guitar. Harms handles most of the instruments on the track. including the mellotron and organ. Part of the charm that comes with Native Harrow is in the flourishes they have added to their tracks, like the faux flute on 'The Dying of Ages'. It gives the tune an extra kick.
From the hand-claps on 'If I Could' to the jazzier stylings of 'Turn Turn', Native Harrow seem to be at the top of their game. Evoking a wealth of singers from Jenny Lewis to Joni Mitchell, Devin Tuel digs into these songs, finding the truths within the grooves. Her voice has a purity and strength that isn't often heard these days.
The slide on 'Smoke Burns' provides an extra flavour that pushes the song into a slightly more country groove for these Pennsylvania folkies. Tuel's voice is filled with yearning making the track that much more appealing. What makes so much of this album so amazing is the fact that it was recorded in two three-day sessions, the first at the end of 2019 and the second over the first three days of 2020.
'Carry On' is one of those songs that seems to have changed a little in light of the current circumstances. An organ that evokes Bill Withers and Paul McCartney at the same time, opens the track. As Stephen notes, "On a day-to-day basis, I think we all see like we're living in a horrible Groundhog Day remake." While the song seemed to mean one thing during the session in December, it's taken on an entirely new meaning today, with the repetition of the phrase "carry on" becoming especially poignant.
Ending this collection with the gorgeously synthesized strings of 'Sun Queen', one gets the feeling that Native Harrow have developed a way to capture time in a bottle. The songs on Closeness speak to the heart. That's a gift we surely need these days.