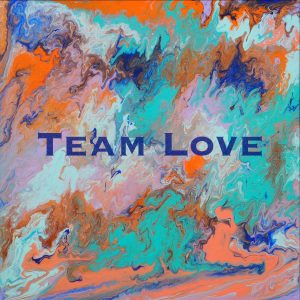 On the song 'Vigil', Ruby McGrath-Lester sighs "I was going to write a song for you / I thought it's the least that I could do / But I am too damn livid to even think anymore." It's lucky that she was able to overcome this, if only for a bit.
She fronts the band Team Love, producers of a small slice of Americana in Australia. They hail from Melbourne and the wonderfully named (and very real) Wombat State Forest. Their dusty and welcoming blend of country and folk is heartwarming and inviting, although much of the lyricism is darkly ironic coming from a band with the name Team Love.
The team in questions are the aforementioned Ruby (vox/guitar), Ruby Cattell (vox/violin), Monique Bricknell (vox/piano), Shaun Stolk (vox/guitar), and Brooke Penrose (vox/keys/percussion). Ruby McGrath-Lester's brothers Eamonn and Paddy joined the outfit before their debut album – on bass and drums respectively – and the more expansive sound this offers really rounds out the record and affords more experimentation.
'Running' is a dark and moody opening, reminiscent of their compatriots Nick Cave and the Bad Seeds. The aching and tender 'Wondering' follows, resplendent with a wondrous four-part harmony that sighs and soars, and Cattell's contemplative violin.
There is much yearning repetition in the lyricism, to firmly hammer messages home. On 'Education', Ruby keeps asking the melancholic question "Did you achieve it all?"; on 'You Can't Rely on Anyone', she repeats that very phrase, as if to enforce the sentiment in her own mind.
Such wistfulness colours the record, the songwriting emanating from a place of loss and regret. 'Silly Ol' Body' is a playful respite, its upbeat instrumentation completely belying its tale of chronic illness ("But my old body, it's a silly old body / It's gone and lost the plot"). Ruth's voice is so overtly happy and optimistic while performing it that it's comically intoxicating.
The anomalous 'Wasted Time' sees Shaun take the lead on vocals, his rougher vocal suiting the narrative of a cowboy character looking back with remorse at the way he chose to live out his years. As if to apologise for the gloomier material that preceded it, 'Going Down (To The River)' is a buoyant and rollicking closing song. Ruby and Shaun trade vocals, recalling the dual work of Gillian Welch and David Rawlings. As the remainder of Team Love evoke a gospel joy with their clapping and harmonies, the line "I'm loving you more than I can stand" is repeated. Despite all the pain and woes of relationships that have come before, Ruby knows that love will occur no matter what; it's a wry thought, yet hopeful, and completely befitting of Team Love's promising debut album.