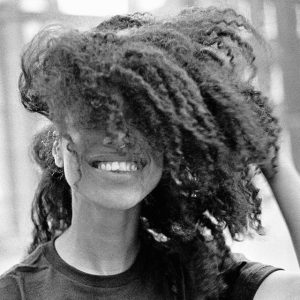 In these chaotic times when we need a more tender touch, Lianne la Havas returns with her rich, honey-like voice and a basket of 11 beautiful feminine songs about love, loss, and rebirth.
Picture the tasteful mixture of neo-soul, folk, and jazz, add to it expressive vocals and upbeat melodic guitar lines, plus charisma and girlish modesty – all in one girl with a guitar. This is Lianne La Havas. She debuted with a bang in 2012 with the album Is Your Love Big Enough. Something special happened on the British music scene then. The album received high acclaim and was often named the year's best album. The second record – Blood (2015) was nominated for a Grammy Award for Best Urban Contemporary Album.
For the third album, listeners needed to wait longer, but it was worth it. The English singer-songwriter returns with mature material made entirely on her own terms, recorded with her band. The new self-titled album brings sweet melodies and raw emotions packed in 10 original songs (with a short instrumental piece) plus a cover of Radiohead's 'Weird Fishes'.
'Bittersweet', which was the first single, is a kind of overture that hints at the album's overall vibe. It goes from calmly and smoothly to powerful and pugnacious with lyrics about rebirth: "Bittersweet summer rain / I'm born again". Sensual and groovy 'Read My Mind' and 'Can't Fight' bring something new – a significant touch of 90's R&B close to areas of early Destiny's Child. Jazzy 'Green Papaya' has the best duo in front – her vocals and guitar fingerpicking lines. 'Paper Thin' as La Havas explains in a press release "is the song that started this whole thing going. It started as a distant melody in my head as I was falling asleep that I decided not to sleep on. It was recorded as a jam between friends and has stayed that way". It's a beautiful ballad that sounds nostalgic like vintage photos and at the same time makes me feel Prince's influence. Lianne takes Radiohead's 'Weird Fishes' and makes it her own way. The cover crescendos, blossoming into ballad with intoxicating underwater guitars and pulsing basslines.
Blossoming seems to be the right word to describe the feminine energy of the album and the way that Lianne leads the songs, with a central place for her voice with many fascinating layers. The songs blossom like flowers. The best example is the soulful 'Please Don't Make Me Cry'. Lianne is a singer of love. No exception this time, lyrically songs present it in various shapes with all life ups, and downs. Slowly 'Courage' with blissful fingerpicking is a melancholy tale about being lonely. And the last acoustic song – 'Sour Flower' sounds like the manifesto of power and independence, and self-love: "You can find me dancing on my own".
Again Lianne can steal listeners' hearts by her charm and enchanting vibrato. Her third album is crafted with her strong points on crossroads of various genres. The songs are sung straight from the heart, delicate and colorful as flowers. It's timeless music, untouched by passing fads.