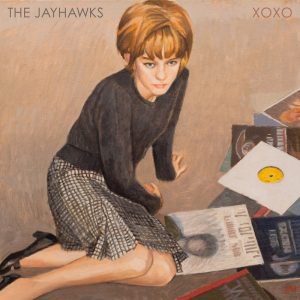 The Jayhawks are a band that need no introduction to anyone who is reading these pages. XOXO is their third album since returning from their latest hiatus back in 2014 and the follow up to Back Roads and Abandoned Motels. It's 25 years since founding member Mark Olsen left the line up (apart from a brief return in 2011), and the sound has changed significantly under the leadership of Gary Louris. That's not to say that there isn't enough in their sound to pacify the faithful though.
In fact, XOXO is probably the album with less Louris signatures on it than previous efforts. It's markedly a team effort, with only two of the 12 tracks written solely by Louris. There are significant contributions by all members, from the drumming and vocals of Tim O'Reagan to the backing vocals and keyboards of Karen Grotberg. The album title itself, meanwhile, is a nod to XO, the Elliott Smith masterpiece from 1998, and there's hat tips to Smith on tracks like 'Homecoming'.
"I must confess I didn't love you…" O'Reagan croons on 'Dogtown Days', one of the songs that sounds closest to old school Jayhawks. He contributes three tracks to the album himself, including the closing track 'Looking Up Your Number'. It's also a country album at heart, no more so than on 'Bitter Pill', the sad tale of a woman who can never find happiness no matter how hard she tries.
'Living In A Bubble' shows that the time spent as a band with Ray Davies recording his Americana albums didn't pass by without influencing the sound and songwriting on this album. It shimmers along, led by a beautiful, almost ragtime, piano line. Grotberg has her first writing credits on two songs, including 'Ruby', where she takes lead vocal duties while the band do their best Beach Boys impression in the background.
What this album does display is that the future of The Jayhawks is safe and secure, the new sound fits the band perfectly and the duties being shared leads to the feeling that this is more of a collective of talented people, each with their own voices and stories to be told. It's an album which clearly says that this is still a band discovering new things about themselves, which is amazing 11 albums and several decades into their career.