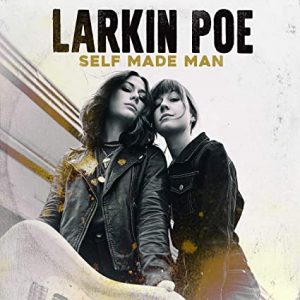 "If you're not going to kick down the door, why go into the room?" asks Rebecca Lovell. It's really not much of a question for her or her sister and Larkin Poe bandmate, Megan. They are not about to enter the room quietly. Entrances need to be made. Guitars are blazing from the get-go on Self Made Man, breathing fire and scorching the earth with licks that never seem to stop.
With a blast of bass and drums to wake the dead, 'She's A Self Made Man' makes it clear there are jams to be kicked out and these two sisters are just the ones to do it. There's a snarl to Megan's Rickenbacker lap steel and Rebecca's Fender Strat as they lock into the groove and refuse to let go. The sisters are on a winning streak and they are not going to make a quiet exit, "Shooting out the lights and the smoke alarms. Keep your fingers crossed, I'm a lucky charm."
A peon to the people who insist on going through the garbage bin, 'Keep Diggin'' throws out the dirt on folks who expose the dirty laundry. "Well I heard it from a friend you were talking to a neighbor who was peeking thought the blinds, she said she'd call you later." One of the most telling moments on 'Keep Diggin'' occurs when all the instruments fall out and Rebecca holds forth with enough power to light the night. While the moment is brief it's also telling. Their understanding of dynamics allows her to maintain and accentuate the moment.
Playing the blues with a passion, 'Back Down South' revels in highlighting some of the musical heroes who've kept feeding the genre. They go back to the roots with Little Richard, before making stops to name check James Brown and The Allman Brothers while maintaining their own trademark licks and adding room for a guitar battle with Rebecca's husband, Tyler Bryant.
Produced by Megan and Rebecca at the studio of their engineer, Roger Alan Nichols, the grooves are thick as molasses. Megan's lap steel slides phrases in ways that own her southern roots while staking out new territory. Sometimes there's a little bit of grease in the mixture, at other times a purer and more soulful tone.
When it comes to telling the Lovell's who they are, there are really only two people they listen to: themselves. Rebecca makes it clear, "Whenever the world tries to tell you who you should be, you have to find the inner strength to defy expectation. Instead, choose how you want to define yourself." It's impossible to hold back Larkin Poe.  Self Made Man is a blast of heat from the south that simply refuses to let up.