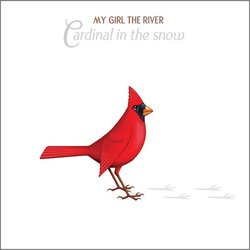 My Girl the River is the project of Louisiana singer and musician Kris Wilkinson Hughes. The band is fleshed out by her husband Joe and daughter Ruby on double bass and harmonies respectively. Cardinal in the Snow is the follow up to 2016 debut This Ain't No Fairytale, an album that drew comparisons in certain quarters to the likes of Jason Isbell and Lucinda Williams.
The album begins with 'Something in the Water', all insistent drums, repeated mantras and beautiful harmonies. "I will drink until I choke…until I don't hurt" sings Hughes, the melody belying the darker subject matter.
'I Try' is the lead single and the only track on the album to feature a full band including Will Kimbrough (previously with Gretchen Peters and Emmylou Harris, among others) on electric guitar. The song is about trying to be a good daughter and asking her mother for her forgiveness and approval. It's made even more poignant knowing that Hughes' mother passed away at the end of February.
Cardinal in the Snow is produced by Neilson Hubbard, who has previously been behind the decks of albums by Mary Gauthier and was recorded in East Nashville. That famous sound is laced throughout, no more so on 'Christmas in July', 'Hot Chicken' and 'He Doesn't Know He's Gone'. The latter of those three is a beautiful song about loss and remembrance. On several of the songs presented here, Hughes' vocals remind me of those of Patsy Cline.
Halfway through the 12-track album comes the title track. "Do I bleed?/Yeah, hell I bleed/When you cut me/So deep" sings Hughes while guitar aches in the background. I'm saving talking about the best song till last. 'The Spark' is just sumptuous, a song that talks about someone "who is covered in scars…but looks for the best in me". Asking their partner if they can see "the mark you leave on me". It's a beautiful declaration of all that's good in the world.
This is a persuasive album that grows with every listen. It's been a very welcome inclusion to my collection and one that deserves to be given time to get to know better.