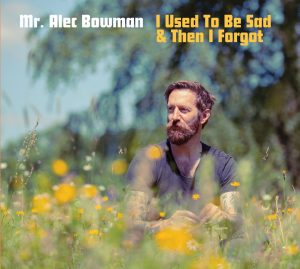 A scoundrel of the mundane, Mr. Alec Bowman describes himself in the sleeve notes to this album. He goes on to dedicate it to his grandparents and to those who are struggling to stay alive, amongst others. The album itself, I Used To Be Sad & Then I Forgot, may clock in at a little under 30 minutes long but you'd struggle to find anything else that will give you so much for half an hour of your time.
Honesty and bravery are the by-words here. Songs that sound simple on the surface but should never be taken for granted. This is a beautiful collection where longing melodies sit alongside darkly poetic subject matters. Ruminating on loss, hope, desperation, wanting to disappear, love, connection, climate, nature, taking a gamble on yourself and others. These, and many more beside, are explored across 10 songs that deliver more and more upon repeated listening.
The album opens up with Josienne Clarke, who produced the album and who lends constant and understated support throughout the record, chiming in on plaintive harmonium before Bowman joins in on acoustic guitar. The song itself, 'Physics & Form', presents what Bowman does best. Half-spoken and half-sung in the tradition of Leonard Cohen and Nick Drake. I've seen these comparisons across multiple reviews but there are far from being without merit.
This is a dark album, but isn't without humour and I'm not just talking about the impromptu laughter that ends the uptempo and near pop of 'Hand in Hand'. Other highlights include 'Long Goodbyes', 'Event Horizon of You' – "I'm a snowflake in a desert storm" – and 'My Kind of Chaos'. Bowman is a modern songwriter shot through the classical prism of a 1970's travelling troubadour.
But you could pick any song among those on display and come up with a winner. 'A Ditch Worth Dying For' is a beautifully bleak song about pity but displays wondrous wordplay and weariness. No song outstays its welcome and 'My Kind of Chaos' is the type of love song a thousand songwriters wish they could write.
The album closes with the gorgeous 'Never the End of the World' – "It just stops for a minute while you unfurl" – and before you know it, you've started the album again. It's an album to turn to when you need comfort, which we all do through these weird times we're living in.