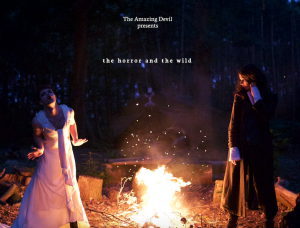 "Every brick you've hurled, I'll use to build the world"
The Amazing Devil's record begins, as all should do, with the wind howling and a low bass reverberation, with Joey Batey and Madeline Hyland's spoken-word delivery. It then spills directly into the title track, a song full of high drama and hard drums, "Welcome to my table, bring your hunger" Batey sings pleading the listener to join them on their fantastical journey.
Batey is a familiar name on the Soho jazz scene, as well as being an actor in Knightfall and The Witcher while Hyland was a member of Dexy's Midnight Runners for three years earlier in the last decade. This is the follow up effort to 2016's Love Run and is full of overlapping wordplay and lyrics that will cause you want to revisit them time and again while you try and uncover their secrets. The majority of the songs on this nine-track album deals with relationships, no more so than on 'Wild Blue Yonder', a song about domesticity and the behaviour couples find in one another once they're living together. "Let's hide under the covers/we don't know what's out there/could be all our demons".
Batey is obviously a very skilled songwriter and arranger and this is on clear display throughout the album, my personal favourite being 'Welly Boots' – "Get drunk for me, sing louder than you've sung for me/grow young each time that thunder in your lungs begins to rumble at the world" – a song about depression and recovery, as Batey pleads to his lover that she's strong enough to stand on her own two feet without his support.
The songs constantly dance between fantasy and reality, the two clashing constantly but worked together so well by Batey and Hyland, that it's easy to overlook. Hyland takes over main singing duties at the beginning of 'Farewell Wanderlust', where she makes it clear that the person you hoped she'd be is dead and gone as her friends gather round to try and help her make sense of everything – "We'd hate to see the mascara drip into your pint".
"And now, even though you're mad and these memories won't stay/that's okay/ 'cause then I get to meet you for the first time every single day" comes the gut punch near the end of 'Marbles' – a song about a the crumbling of a relationship, the fact that neither would change a thing really, the ageing process and the onset of Alzheimer's disease. It's a remarkable achievement to fit so much into six minutes and it's really a testament to the talent on display.