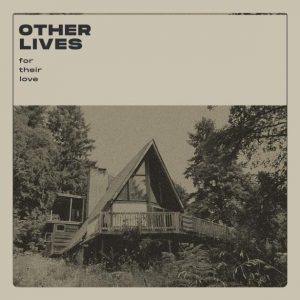 Jesse Tabish hasn't given up on computers, yet the leader of Other Lives found himself at a crossroads with For Their Love. "Working with computers you can layer parts forever. I'd forgotten how to pick up a guitar and sing a song and be more physical and primal with the music. On For Their Love, we're playing again as a band, with a clear definition of parts instead of 20 layers drenched in reverb."
It had been fourteen years since the band had produced themselves and the effect of having so many choices over the past three albums had left them longing to have a record with out all the tricks. That was true of the lyrics as well. Instead of institutionalized answers, Tabish discovered the value of self-worth, finding the truth that lies within.
From his home in the Cooper Mountain Region of Oregon, the core band (Jonathan Mooney, Josh Onstott, and Tabish) began recording, attempting to capture those elusive moments where magic happens. Clearly the process worked, yet the album doesn't feel stripped back. The swirl of synths on 'Nites Out' doesn't obscure the other instruments, while the vocals of Tabish and his wife, Kim, create intensity, the dynamics of the piano and bass establish tension.
Simple strumming from an acoustic guitar only highlights the lyrics to 'We Wait', "Death has come around my mind so often in sleep. We were dreaming about a winter you won't see, and despite the lies that tie a man you held you head so high." Keyboards and vocals fade in and out of the mix, adding to the tension of the piece.
An insistent piano triggers the tension on 'Hey Hey 1', fuelling the battery of drums and bass, while Tabish sings, "How many times will you let them run you empty? How many times will you let them suck you dry?" Musically, in many respects, Other Lives resemble an Ennio Morricone soundtrack for the modern age. Their music lies outside the main stream, challenging listeners to reexamine their beliefs just as Tabish has done.
From Stillwater, Oklahoma to Portland, Oregon, Other Lives have come a long way, and they are still searching for the proper path. They keep looking because that's what people do. While For Their Love may not have all the answers, it provides a place to step back and look at the progress being made.