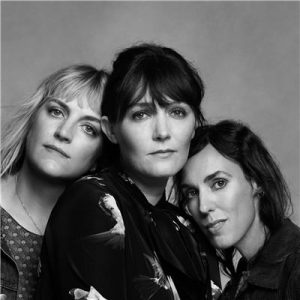 "Let's start a band."
With those words Seeker Lover Keeper was formed at a bar in Newtown, Australia nine years ago. Wild Seeds, their second album, finds Sarah Blasko, Sally Seltmann, and Holly Throsby reuniting for the first time in seven years. A lot of water has gone under the bridge, but the major change on this record is that all the songs were co-written together, with Sally and Sarah playing piano, while Holly handled the guitar work. There are few overdubs, mostly played on an old Mellotron. The entire recording process took just eleven days.
Recorded so quickly, the songs are reduced to their essence enables them to be captured in a way they can reproduce on stage. Thanks to the passage of time, they reflect a shared perspective, nostalgia for the days of their youth, yet with an understanding of how growing up isn't always simple and straight-forward.
Leading off the album, 'Superstar' was actually the first song the three wrote for the record. As Sarah recounts, "…it's a song about friendship and encouraging someone close to you to stop doubting themselves and realise how great they are." The title track, 'Wild Seeds' gives the three a chance to look back on their early days from a distance that time provides. By the same token, 'One Way Or Another' deals with the strength one takes from having someone at your side who knows you so well there is no need to explain yourself.
'Let It Out' opens with a fragile acoustic guitar, followed by bass as the three women let it be known that it's okay to be exactly who you are, and where you're from. There's no need to hide your self away. The song's gentle simplicity leaves more room to enjoy the gorgeous harmonies.
Even when life gets messy, Seeker Lover Keeper find enduring messages. There is room in their world to encompass both the need for both community and solitude. That they make both sound equally appealing is a tribute to the their talent. They have planted Wild Seeds and it is a delight to enjoy the fruits of their labour.