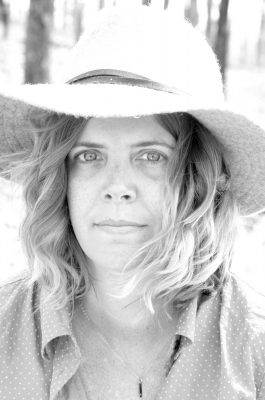 After picking up her trusty guitar from an antique market in 2006, the Good Graces' Kim Ware went from notable Atlanta drummer to full-fledged singer-songwriter and frontwoman. Well-loved for their culmination of indie folk and Americana, the Good Graces are prepping for the release of their latest album come 11 October. Titled Prose and Consciousness, it's the next installment in a natural continuation of poignant, emotive songwriting and performances from the folk band.
Ahead of its release, Ware took the time to take part in our ongoing 'FFS 5' interview series.
Please tell us a bit about yourself. Where are you from and how did you get started in music? Any defining moments along the path to present day?
I live in Atlanta now, but I grew up in a really small town in the foothills of North Carolina, called Kings Mountain. When I was 12 decided I wanted to play drums in the school band—it was the only instrument I had ever been interested in, I think because I was a big tomboy and I thought of drums as a 'boy' instrument. I really took to it; I got my first kit when I was 16 and I still play, though not quite as much as I used to, but I was in various bands all through college (and long after).
The first band I played in that made it out of the practice room was a punk / grunge / noisy art-rock trio called Tex Svengali; playing with them had such a big impact on me because I was super shy and quiet but it was sort of the antithesis of that—I guess you could say it brought me out of my shell a little bit. I didn't really start writing songs and playing guitar until years later; in 2006 or so I picked up a guitar sort of on a whim at a flea market in Atlanta. I started playing around with really simply chord structures, not at all knowing what I was doing, but all these breakup songs just started coming out (I had gone through a divorce a few years prior). I quickly fell in love with it and just made a point of trying to surround myself with people better than me and learn as much as I could from them. And I was really obsessed with the process—of writing songs, putting together set lists, making albums, all of it. I didn't care that I didn't know what I was doing, I figured I'd just learn by doing it. So I just kept doing it—fast forward to around 2013 or so and I found myself making my third full-length album with my friend Rob Dyson, who had worked a little with Emily Saliers from Indigo Girls.
He shared a few songs with her, and she really took a liking to one in particular, "Cold in California." Several months after we were asked to open a few shows for them. It was unbelievable, especially considering they were such an influence on me (I had learned to harmonize by singing Indigo Girls songs with a friend in the 90s). I would say it's the most 'defining' moment I've had as a songwriter. Being on those stages in those amazing rooms in front of their incredible fans, it was just such an honor. It gave me a lot more confidence and made me feel like if I really dig in and work my ass off on the songs part, perhaps some of it might just connect with people.
As an artist, how do you define success?
Ever since I first started playing, I've always just tried to build on the last song, album, show, whatever. Just build and improve upon the most recent experience. Whenever I'm able to feel like I've done that, that feels successful. When I complete something I've been working towards, be it an album or show, or even just finishing a song I'm proud of, that feels successful. I have a pretty demanding day job and I'll admit the older I get the more challenging it is to do this at the level that I'd like to—meaning making an album every few years, doing some touring to support it, basically staying out there as much as I can—but I'm doing it, despite having to sacrifice a good bit at times. I think that's success though, because it's for me, and on my own terms, and I still love it.
What do you find your greatest struggle to be when it comes to the music business?
As I mentioned, it's not easy to keep doing it like I have been. It can be expensive and draining. So it's sometimes a struggle to just balance everything without feeling exhausted. I try not to concern myself with the "business" part of it that much, but sometimes I have to. Like right now, I need to practice for a festival I'm playing in a few weeks, but I know I also need to update my website and send an email out to my mailing list. I keep putting off those more admin-y things, because I want to just play. So again, balance is a struggle. I can't complain too much though because I really do get so much enjoyment out of the art part. I just wish I could devote a little more time to all of it.
What do you think is the most realistic goal you can achieve as an artist and as a band? What do you hope to achieve?
That's a good question and probably something I should think about a little more. A couple of years ago, when I was making the 'Set Your Sights' album, I got super focused, hung a big posterboard up in the practice room and wrote goals for the year on it. It helped me get better at planning things out and prioritizing, at 'doing' rather than just wishing and talking about. But I ended up feeling pretty exhausted and burnt out after the year was up (again, balance!) so I haven't really treated it that way since. S
O, ok … goals. I'm playing the LEAF Festival in a few weeks; I'm a finalist in their annual NewSong singer-songwriter competition which I'm so excited about! I'd love to do more of those sorts of things. So challenging myself to write better songs and realize more opportunities from them is definitely something I'm interested in. After the album comes out in the fall, I'd love to do more regional touring and hopefully even more festivals next year. I do believe in having some sort of "moon shot" goal too, because then even if you don't make it all the way, I figure you at least accomplish something. For me, that goal is touring Australia. I've been talking about it for a few years and I'd love to make that happen in 2020 or 2021. Oh, and landing another big tour like the one we did with IG would be awesome.
Outside of music, what do you like to do that you feel contributes to the creativity that you tap into for your music?
I've recently starting writing a little poetry — it challenges me in a way that's really different from songwriting; for me it's less linear. I think it's helping my songs a little, perhaps. I really enjoy it. And I've been doing yoga and meditation for years, which I think has really helped keep me a little more grounded and centered than I would be otherwise, and the deep breathing has really helped my voice. I also recently started journaling more, intentionally taking some time at the very beginning of the day to just sit and write. All that stuff helps, I think—I've got a pretty busy, anxious mind and so anything that slows it down a bit seems to just make me feel less scattered and more productive, and just more comfortable in general.
Words by: Jonathan Frahm