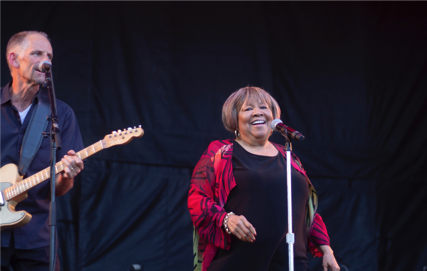 The heat index was topping out at 108 degrees Fahrenheit (43 degrees Celsius) as Pitchfork began. Even hotter than the temperature was the performance of the Great Black Music Ensemble, a 13-piece band under the direction of AACM's Ernest Dawkins. This tightly conducted, co-ed jazz orchestra took listeners on a journey through African-American music. Their set included duelling flutes, a vocal choir, and a momentous keyboard percussion exchange. Free, but melodic jazz may have been an unlikely opening to the festivities, but one dotted with memorable moments.
20-year-old Bronx rapper Michael Jordan Bonema, otherwise known as MIKE, gave voice to the urban experience, social consciousness being a major part of his rapping, MIKE sometimes plays to the crowd and sometimes plays against it with a line like "white boy getting rich off of Dad's money." For a largely white crowd there was no offence in the thought. The beats were sharp, as was to be expected considering his alias, DJ Blackpower. He drew big cheers from the assembled throng who hung on every word.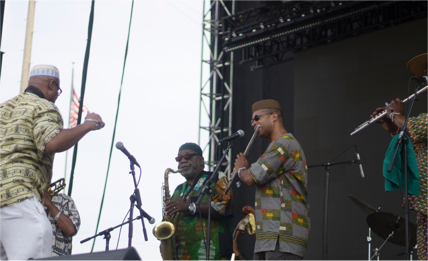 Having seen 13 people on stage with Great Black Music Ensemble, Standing On The Corner upped the ante with 23 pieces on stage. Three drummers, six sax players, 2 violinists, and a upright bass were just the beginning. Assembled by Crown Heights, New Yorkers Gio Escobar and Jasper Marsalis, their tightly arranged music pushes jazz forward. The six-sax circle blew with a fury one didn't expect creating, one of the highlights of the opening day.
Pitchfork has always friendly to Chicago bands, Grapetooth are local boys Clay Frankel and Chris Bailoni. A gentler take on the two-piece stance of White Stripes, the vibe is fun and accessible. Joined by Lala Lala's Lillie West, they were a dance party waiting to happen. And happen they did despite being pitted against Sky Ferreira at the Green Stage. After all the jazz and rap they were an invitation to merriment.
Despite starting 17 minutes late with no explanation, Sky Ferreira still seemed to have the crowd eating out of her hand. Six years is a long time to go without any new product except for May's single, 'Downhill Lullaby', which she ignored. Opening with '24 Hours', her nine-song set included a cover of 'Til Tuesday's 'Voices Carry' and the Dev Hynes' written and produced, 'Everything's Embarrassing'. Rabid fans were in attendance, hanging on every word with the crowd singing along.
Two years ago when Julia Holter played Pitchfork the performance was largely electronic. This time around instruments were a bit more organic. Holter still plays keyboards, but trumpet, violin, string bass, and drums have been added to the mix creating a sound that befits her atmospherics. Opening with 'Turn The Light On', her eight songs had a more melodic edge to them than during her 2017 set. She is an artist who is clearly consolidating her performances to focus on her strengths as an artist.
Soccer Mommy's set created one of those moments that the assembled throng seemed to eat up. Under the shade on the tree-lined Blue Stage her grown up garage rock and intimate lyrics were the perfect place to beat the early evening heat. Sweating out a cough and cold, Sophie Allen's pigtails and silver bike shorts added to the sense of the moment. While, at times, her vocals were overpowered by her guitar playing, she gave a performance that was just what the crowd wanted. 'Your Dog' from 2018's album Clean was a particular stand out.
Church was in session at the Rad Stage as Mavis Staples proved it doesn't take a huge band to give an overwhelming performance. With just guitar, bass, drums and two backing vocalists, Mavis captured the crowd and never let go. 'Freedom Highway' may date back to the Selma civil rights march, but in these Trumpian times it felt freshly minted for the moment. She gave the Talking Heads' 'Slippery People' a raw funk workout that even David Byrne would admire. Unafraid of political consequences she made it clear that she's no fan of the orange-man in the White House, "I used to like oranges. I don't like oranges no more!" Enough said.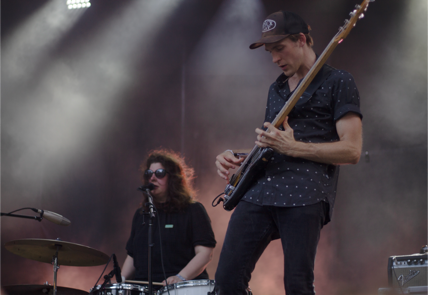 The atmospherics that are at the heart of Low's latest LP, Double Negative, weren't actually on display Friday. Instead it was more of a lesson in reduction, because there was simply no way to replicate the experience live. But even Alan Sparhawk was surprised anyone was in attendance. "You should be ashamed of yourselves that you're not watching Mavis Staples right now." Yet there was no shame in their performance. They trawled through the back catalog for 'Do You Know How To Waltz 'and 'Lazy', closing their set with 'Fly', one of the spacier moments on the current album.
Friday night headliners Haim were an unlikely choice, especially considering in years past sets by Fleet Foxes and Solange set a standard they were never going to match. In what was their only 2019 performance to date, their set was well received but certainly not on the par of Lauryn Hill's appearance 12 months ago. They played with fire and polish, but one would be hard pressed to call their performance incendiary.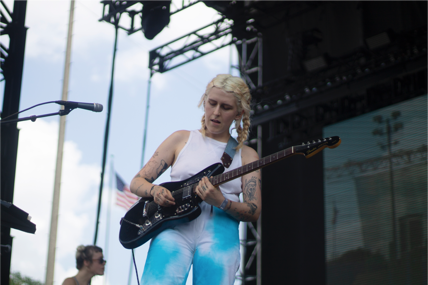 The unrelenting heat and humidity continued into the second day and were on full display as Lala Lala took to the massive Green Stage at 1:00 p.m. Lillie West's aggregation plays smart music that sounds slightly off kilter, hard hitting with a bit of a bite. Yet there's something slightly ethereal, too. In those moments it felt like Saturday was going to be a much better day for musical performances than Friday. Sen Morimoto provided keys and sax, Nnamdi Ogbonnaya handled the bass, while V.V. Lightbody formed the key components of West's band.
The debut of Ric Wilson may not have been highly anticipated, yet it was without a doubt a performance for the ages. His hip-hop set was filled with surprises, from a guest spot by Kweku Collins to a Soul Train style dance line. But for sheer exuberance you couldn't beat watching the graduating seniors from the Lane Tech High School Marching Band drumming their way on to the stage to perform a yet to be released song. Wilson owned the stage and held the audience in stunned amazement and disbelief. It was the kind of set that guarantees Wilson will be around for years to come. Oh, and did I mention there were puppets, too! It was a dance party for the ages.
Yet not even Ric Wilson could prepare you for what came next. CHAI is absurd. Hailing from the land of the rising sun, there are no labels to fit this band. Bubbly, bouncy, semi-disco-y CHAI is the antidote to cool. These four young women in matching pink outfits play as if there is only this moment. While that may actually be the case, their high chirpy voices and beat-perfect rhythms present the antithesis of being to cerebral. Their energy is unrelenting and when they switch to recorded backing tracks the spot perfect dance moves are a wonder. Only later do you ask what was that and do we need a twenty-first century Japanese Monkees?
Dressed in a deep blue dress, Cate Le Bon and her five-piece band worked the crowd with a set of songs drawn largely from here latest record, Reward. She was as cool as the crowd was hot, rewarding them with the first three songs from the new album to start the proceedings. Delivering a solid performance though some of the songs may have been difficult for the uninitiated to decipher. She commanded the stage with grace and style, yet the 3:20 time slot may not have done her any favours.
Melina Mae Duterte, the daughter of Filipino immigrants, and better known as Jay Som, commanded the blissful shade of the Blue Stage. Described as bedroom pop, her dreamy blend of rock rolled through the tree-lined confines as the audience swayed in approval. The sunny dream vibes were a perfect antidote to the darkening sky. She proved to be worthy of the larger green and red stages, but for now, with a new album coming out in August, she proved to be quite content with where she was right now.
Parquet Courts took to the main stage rocking relentlessly. The crowd was in fine form, dancing, head banging and crowd surfing to the likes of 'Freebird II' and 'Master of my Craft' before going right into 'Borrowed Time'. While they may not have noticed, the sky darkened considerably. Clearly they were truly living on borrowed time. Twenty minutes before the set was scheduled to end the band's power was turned off as an announcement was made that the festival was being suspended and the park needed to be evacuated.
Kurt Vile has to be one of the unluckiest performers to grace the stage at Pitchfork. His last scheduled performance was cancelled, and the weather this time was no different. His set was scratched, as was a performance by Amber Mark.
Despite not having released an album since 2010, when the all clear was given Stereolab took to the stage and picked up as if the past nine years never happened. The crowd was ready to dance and Stereolab was only too happy to oblige them. Laetitia Sadler, unbelievably cool, played the part with aplomb. Her keyboard melodies were beautifully quirky bringing to life songs like 'Infinity Girl; and 'Lo Boob Oscillator.' 'The Tropicalia of Miss Modular' was both machine precise while still retaining a loose organic feel. While their set may have been cut to just seven songs this was one reunion that was clearly worth it.
Even knowing that Belle and Sebastian were going to be playing If You're Feeling Sinister in its entirety it's still surprising to see a string section on stage at a music festival. But then Belle and Sebastian have never been about simply doing the expected. Following the indie pop of Sinister they changed gears to the disco groove of 'The Party Line' from Girls In Peacetime Want To Dance. Stuart Murdoch jumped from the stage to stroll among the audience, proving that Belle and Sebastian still have the power to surprise.
Closing Saturday was a birthday party celebrating 60 years of the Isley Brothers. Opening with 'Fight The Power', they covered all the bases from 'Who's That Lady', 'Between The Sheets' and 'Footsteps In The Dark'. They also showed how their songs have been appropriated by the younger generation, mixing in rap from Kendrick Lamar, Biggie Smalls, and Ice Cube that feature their work prominently. Ernie even showed the influence of former band member Jimi Hendrix, playing guitar behind his back and riffing with his teeth.
Day three began under a gloomy sky. The ground was wet, with half of the space in front of the Red stage was a mud bath. While it did not bode well, when things finally began Washington D.C.'s Flasher took to the stage and played a set designed to wake up the sleepy crowd. Singer/guitarist Taylor Mulitz, bassist Daniel Saperstein, and drummer Emma Baker played through a light rain with a set of power pop, although they have been described as a punk band. If this is punk, Sid Vicious is spinning in his grave. But labels aren't the point, the music is, and their set had power to spare.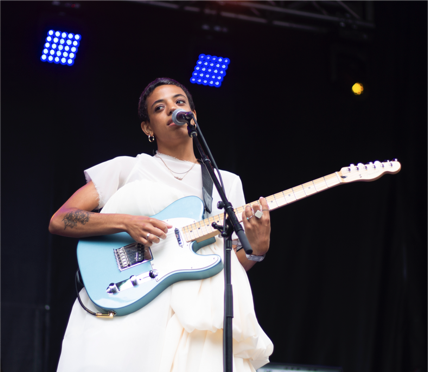 On the other end of the spectrum Tasha, a singer-songwriter out of Chicago, offered an appealing blend of folk-soul that quietly attacked the noisiness of modern life. Opening with 'Lullaby' was bold gambit, letting the audience know we all need some quiet moments in our lives. Along with her sympathetic three-piece band, she offered the kind of empathetic moments that resonate beyond the immediate performance. There was time within her set to offer up some new material solo, just Tasha and her finger picked guitar.
US Army veteran turned MC, JPEGMAFIA showed the kind of energy and bravery rarely seen in Chicago. His music may be bleak and unforgiving, but he threw himself into every note. Fearlessly he stalked the stage, diving into the crowd again and again, while his backing tracks often replaced conventional beats with squeals, moans, and muffled roars. One laptop has never roared louder than Barrington Hendricks' Macbook and right from the beginning he made it clear, "And they're letting me up here with a live microphone. Mistake." But make no mistake, his set left the crowd speechless with the energy and excitement of never knowing what Peggy was going to do next.
Ibeyi, the French-Cuban duo of twins Naomi and Lisa-Kainde-Diaz, proved that two people can make the most captivating music imaginable. Using an array of keyboards and percussion, along with their gorgeous voices, they created a fascinating blend of island sounds. The crowd filled the small park, swaying and grooving to the sound of a sampled Michelle Obama making it clear, "The measure of any society is how it treats its women and girls." A moment that rings clear in this part of the world, where things seem to be moving backward in the post-Obama era.
For someone who doesn't even have her first album out, Clairo, aka Claire Cottrill, easily drew a large crowd. Described as delivering "bedroom pop," her set was mostly comprised of songs like 'Pretty Girl' (the viral single that supercharged her career), 'Bags', and '4EVER'. Her vocals were tight and her set was a crowd pleaser for the young, tatted masses. One couple in particular spent a large portion of her performance engaged in a heavy liplock.
Hailing from Houston, Khruangbin's late-afternoon set blended their particular brand of funk, blues, free jazz, and psychedelia. The trio of bassist Laura Lee, guitarist Mark Speer, and drummer Donald Ray "DJ" Johnson proved to be infectious low-key chill-out. Slinky and cool, their groove proved to be a perfect match for the moment, giving the crowd an opportunity to find a groove and roll with it.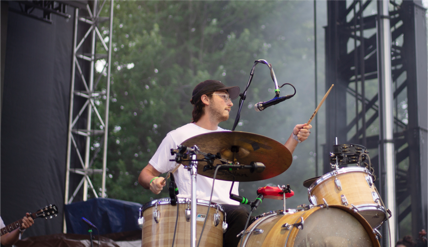 The anticipation for Whitney's performance was off the charts. With a new LP, Forever Turned Around, coming out at the end of August, the fans began assembling early. The emphasis on songcraft was evident from the beginning, as drummer Julien Ehrlich and guitarist Max Kakacek, along with an expanded lineup and string section debuted a number of new tunes. Having moved from the smallest Blue stage in 2016 to the largest Red stage in 2019 speaks volumes about their hometown popularity. During 'Golden Days' their backing singers included Snail Mail's Lindsey Jordan, Soccer Mommy's Sophie Allison, Tasha, Ric Wilson, Vivian McConnell (V.V. Lightbody) of Lala Lala, and all four members of Chai.
Neneh Cherry may have had trouble getting started, but once she found her footing she was off to the races. With a band that featured a harp player, bass, synth drums, vibes, percussion, along with a computer and turntable-ist, she was able to do justice to music that included everything from Afrobeat to hip-hop and industrial. 'Takes Money Man' included a few well-earned digs at the current resident of the oval office. Classics like 'Buffalo Stance' supercharged the audience, while the fifty-five year old joked at the end of her set, "Time to get grandma off the stage." No one would have minded if she stayed longer.
World domination is a competition and Charli XCX is not ashamed to put herself in the arena as she proclaimed herself, "one of the top 15 pop stars in the world." While she might be aiming a tad high, there's no denying her hits for others like Icona Pop's 2012 single 'I Love It' or her recent collaboration with Troye Sivan, 1999. Dancing along with most of her music, she turned Union Park into a giant, albeit muddy, disco.
Although small in stature, Lindsay Jordan's Snail Mail set was a super sized performance. In deference to the weather, Heat Wave began her electric guitar shred-fest. Having performed the night before at Chicago's Thalia Hall, her Blue stage performance drew a loyal crowd. She invited Clairo up on stage for Speaking Terms, doubling her boundless energy, with both cackling at Jordan's guitar static. By the end of her show there was no pent-up energy left.
After almost a decade away, Robyn returned in 2018 with Honey. The buzz was obvious as she engaged in a sold-out theatre tour. Completing her victory lap at Pitchfork, her set built to an extended version of 'Love Is Free'. This was followed by the club scene classic, 'Dancing On My Own'. The crowd gyrated along with every note, illustrating just how Robyn can turn melancholy lyrics into they kinds of songs that fill the dance floor that was Union Park.
Photos by DJ Fish