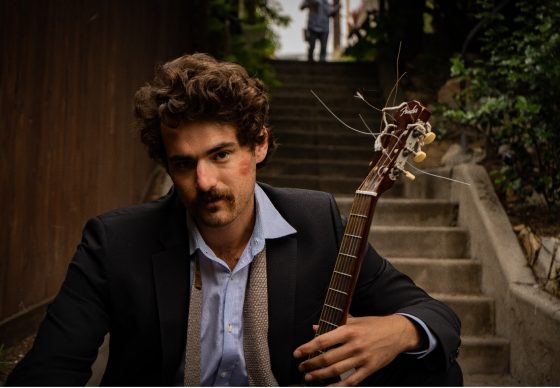 Here at For Folk's Sake, we've been fans of Gregory Ackerman's from the get-go. Last year, our own Ian Parker laid out praise for the now 26-year-old singer-songwriter's work, lauding the years of artistic culmination and hard work that his debut album had taken to set out.
Now, Ackerman has a new EP dropping on the 4 October. Entitled Stresslove, the album marks a new stone overturned for the artist, as 'Dawg' would attest. Ackerman's latest tune features crisp, rhythmic guitar tones around a subtly infectious vocal performance that each serve additional layer's to a sardonic inclination.
On the tune, Ackerman tells us, "Dawg' is a more sarcastic interpretation where I end up literally telling someone not to call me 'dear'. It's a lot like the line from Space Jam where Lola Bunny tells Bugs not to call her 'doll' while blowing her ears out of her face. Same energy. And I made it into a fun, poppy song to try to convey that energy and sense of sarcasm — you can't take a song with owl hoots and a triangle too seriously.
The tune is elevated to new heights through the charmingly hilarious claymation of his brother, Eric Ackerman, and friend, Alan Chin.
Eric colorfully recalls…
I've always wanted to eat clay, but I've been afraid it would taste bad. Then I remembered that everything tastes better when it's free, so I thought if I made a claymation video people liked, maybe someone would send me some free clay and I could eat it without any concern about the taste.

So, I called my friend Alan Chin and told him about my idea. Since he's an artist extraordinaire, he's had a lot of experience with clay. I thought maybe he would want to help me make the video. He did. He was lonely and housesitting for his friend Julia Conley (who is also my friend now) while she was falling in love on a yacht in Greece (dumb). So he said we could work at her place.

We set up shop in her apartment and spent the next 9 days there. 7 days of prep, sculpting, building sets, etc., then 2 days of shooting. Julia came home on the first day of shooting and told us all about how she fell in love blah blah who cares. Shut up. We (Alan and I) finished shooting after two days and then the next day I edited it in my garage while my roommate played drums. He plays drums very loud. Anyway, that's how it happened. Alan and I drank a lot of coffee with chicory, ate a bunch of steak, and had a decent amount of sake. If you want to make a claymation video, I don't know, maybe those things help.
'Dawg' is currently available to pre-save.
Words by: Jonathan Frahm