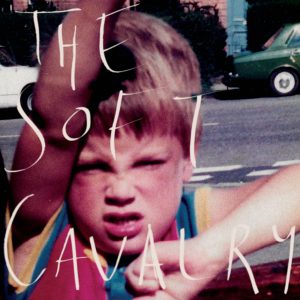 Some albums take a lifetime to come to fruition, The Soft Cavalry is definitely one of those. Steve Clarke has spent most of his life in and around the music scene, including a stint in the Ricky Gervais/David Brent band Foregone Conclusion. Clarke also served as a tour manager, meeting up with the reformed Slowdive in 2014, the day after his last performance with Gervais. That meeting changed his life – it was the day he met Rachel Goswell.
Within a year they were living together, and they married in 2018. Not bad for a man who had been in a haze for three years since his divorce in 2011. He admits that Rachel, "turned my world upside-down…I'd always had ideas but never felt that anything I'd had to say was worthy of anyone's attention, let alone my own." He adds, "With the right mentality and people around you, especially family, we get through and find a new level of hope."
Growing out of all of that The Soft Cavalry, composed of Clarke and Goswell, began to take shape. In effect Rachel became Steve's editor, cutting out sections of words and helping him to create something uniquely his own. It's not Slowdive light by any stretch of the imagination. 'Bulletproof' unfurls with drums and acoustic guitar not quite a straight-ahead rocker, although the closing guitar solo has the kind of clarity that takes things to a different sonic dimension. Floating in on soft focused electric piano, 'Passerby' features a vocal by Goswell not a million miles away from Slowdive, yet against the keyboards she sings, "Waters break and we are born restlessly into the arms of this unknown." Ethereal yet minimal, it suggests a point of difference that makes The Soft Cavalry unique.
'The Velvet Fog' is an example of how they transcend obvious patterns, it's guitar driven opening gives way to synth-based symphony. Multi-instrumentalist/album producer and brother Michael Clarke, along with Mercury Rev and Midlake keyboard player Jesse Chandler, guitarist Tom Livermore, and drummer Stuart Wilkinson have helped create a palate that calls forth everyone from Pink Floyd and Talk Talk to R.E.M., which is not bad company.
'Home' in particular sounds like it might have been cut from Spirit of Eden for time considerations. Closing the album, 'The Ever Turning Wheel' builds slowly, and majestically over the course of seven minutes, creating an anthem for our time. With another album, The Lost Decade, already written Clarke and Goswell are headed in a new direction, charting territories once hidden, and finding a direction out of the morass and into the light. May the new direction be as exciting as their debut.
Words by: Bob Fish