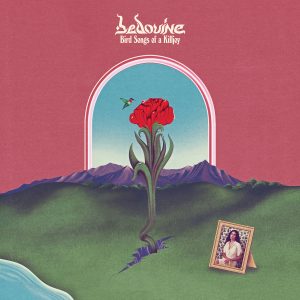 Coming in on the first breeze of summer, Bird Songs of a Killjoy by Bedouine marks the second chapter in the recording career of Azniv Korkejian. Fittingly, the summer solstice is the perfect time to discover her music. As refreshing as a breeze, it feels as natural as walking barefoot with the grass caressing your toes.
Something of a nomad, having lived in Syria, Saudi Arabia, as well as Massachusetts, Kentucky, Savannah and LA, she is a product of no set environment. Musically, she was exposed to everything from Armenian and Arabic music, not to mention Nirvana, yet when she finally picked up a guitar in her twenties she gravitated to 60s folk music.
Working again with producer Gus Seyffert, their analogue recordings have opened up new avenues for exploration. On 'Bird', the opening lines suggest that Azniv has a lot she's trying to work through, " I kept the bottle we drank from together, I don't know, is that insane?" There are more questions than answers, yet musically the strings, fragile guitar and piano provide a gentle counterpoint.
Employed as a sound engineer for several years, Korkejian has a keen sense of how to shape her music. Using analog recording techniques rounds off sharp edges, adds a sense of morning dew to the mix. The lyrics to 'When You're Gone', "Dragged my finger around the rim, drag around a phantom limb" are lightened by strings and guitar, yet the coda provides a sense of the melancholy affecting the situation.
Loving and losing is never easy, the music of Bedouine makes these situations sound much more survivable. Gently plucked guitar and keyboards leaven the pain in 'One More Time'. "I don't think I could really say leaving has felt different from staying, I head to bed most nights alone." Instead of resignation there's a sense of reality that even this is survivable.
Summer breezes are often deceiving. Sometimes instead of gentle days there are storms on the horizon. Bird Songs of a Killjoy deals with the complexities of the languid weather, while it can be draining physically and emotionally, getting through to the other side provides its own sense of release. Bedouine's songs may not always provide relief and respite, but they are always worth the journey.
[bandcamp width=100% height=120 album=173537406 size=large bgcol=ffffff linkcol=0687f5 tracklist=false artwork=small]