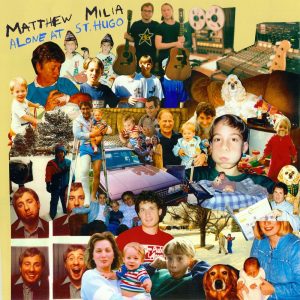 This is a lovely sophomore album by Matthew Milia, former Frontier Ruckus frontman.
Frontier Ruckus might not be a "thing" anymore but it's alive and kicking in Alone At St. Hugo, easily the most carefully arranged and produced album in Matthew's career. Interestingly, the album was only recorded by two people, Matthew himself and Ben Collins, fellow local musician from the Michigan area.
But it's not just the arrangements, which obviously benefit from greater experience, that makes this album shine: the inspiration is also in the songwriting, which interacts with the instrumentation, letting a song like 'Karen's Just A Kid' soar.
All the songs maintain that typical, everyday stride, with those Beatles-esque, oblique chords, of Milia's songs, but there is here a conciseness that seems to derive from a new maturity, a deeper acceptance of oneself – and from the subsequent exhaustion of the existential anxiety of the young life of an artist.
For this reason, the record is reminds the listener of the playful, relaxed atmosphere of some of Tweedy's experience in Uncle Tupelo and Golden Smog, and also of the Jayhawks.
There are tracks that, maybe, weren't previously possible for Matthew: the "sticky" chorus in 'Stay Alive At The Same Time', or the sparkling power-pop in 'Abruptly Old And Caffeinated'.
If Matthew's reference image is the world of situation comedy, as his fans know very well, Alone At St.Hugo is a perfect manifesto, as it's able to tell something about life with the same lightness of spirit. In this coherence of poetic vision, it's reasonable to state that Matthew Milia is a name that has now produced a very recognisable and relevant mark on contemporary Americana.
Words: Lorenzo Righetto