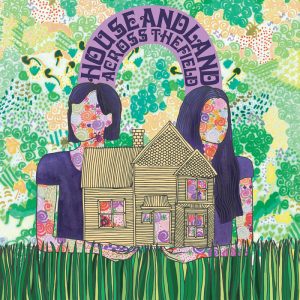 Creating a flowery aura that blossoms our airwaves, House and Land are a North Carolina based duo. Complimenting each other with their bold folk tapestry, multi-instrumentalist Sarah Louise and banjoist/fiddler Sally Anne Morgan are here with their second instalment. Beautiful and charming all at once, Across the Field will have you running with it for miles.
Riding over banjos, their vocals imitate the melody like a duck to water… natural. The somewhat imperfections of the voices brings you closer to the mix and the polyrhythmic parts declare that the 'Two Sisters' of the opening track are simply human. This is a reassured opener that keeps on giving with every listen. On 'Rainbow 'Mid Life's Willows', House and Land create a mesmerising harmonic beauty while keeping the instrumentation captivating. 'Cursed Soldier' holds on to its folk roots with both hands. It's traditional but there's something really refreshing that stands out, and that's the breathtaking string section that sits behind the main melody. 'Blacksmith' grows with every listen. As a track that didn't stand out to me the first time I heard it, the enchanting vocals will captivate you as time marches on. With a minimalistic approach, it's melancholic but the bright vocals give it that extra glow.
'Carolina Lady' holds onto the traditional folk aura that the album portrays, but behold, a powerful message shines throughout this number. Whereas the original indicates the lady in the song to be a 'trophy', as such, House and Land have twisted the track to become an uplifting track on the album. Replacing the track as an instrumental, it's melody will haunt you into next week. 'Precious Jewels' showcases a quick tempo that feels like more like a jig more than a folk piece. Dynamically, it doesn't seem to take us anywhere. Saying that, it definitely sticks to its roots. Made famous by Shirley and Dolly Collins, 'Ca The Yowes' is a beautiful interpretation by the duo. Sticking with their feminist theme and strong talent, this folk album will make the hair on the back of your neck stand up. 
[bandcamp width=100% height=120 album=3801201375 size=large bgcol=ffffff linkcol=0687f5 tracklist=false artwork=small]