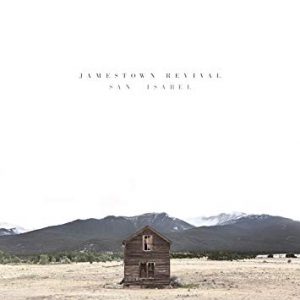 After four years on the road, Jamestown Revival needed some time off. They spent that time writing and reflecting on what they felt was important. Realising what they loved more than anything was harmonising led them down the road to San Isabel, the album and the mountain range in Colorado.
Their inspiration was to record the kind of music they wanted to hear rather than the trends of modern music. Built on the harmonies of Zach Chance and Jonathan Clay, friends since the age of fifteen back in Magnolia, Texas, San Isabel is a return to their roots. Formed in 2010, their name pays homage to one of America's first settlements in Jamestown, Virginia and a love of Creedence Clearwater Revival.
Recorded in a remote cabin in central Colorado, each day began with coffee on the front porch overlooking the mountains of the San Isabel National Forest. As Chance relates, "most days we would have the doors and windows open, and the breeze going through." You can feel the breeze on the disc with Clay's baritone and Chance's tenor creating an impeccably striking blend.
Over a bed of banjo and acoustic guitar Jamestown Revival suggest on 'Crazy World (Judgment Day)' that the world may be spinning a bit too fast, "Songbird singing in a minor key, everything I see reminding me its hard to slow the steady march of time." Yet there is still reason for hope, as 'This Too Shall Pass' makes clear. "Beyond the horizon there's a beautiful view. And if you keep moving, you're gonna find, maybe your doing, you're doing fine."
Even when the electric guitar comes to the fore on 'Who Hung The Moon', there's still a sense of gentleness and perhaps more than a bit of hope, "Under a blanket of infinite time, drunk on the year and the taste of the wine, young and wild and growing old too soon, and asking the question who hung the moon?"
On San Isabel, Jamestown Revival takes stock of the past, looking toward an uncertain future. At the end of the day they use those beautiful harmonies to reveal who they are and where they've been, while offering hope for a brighter future. That's a lot to ask from one album, but they pull it off with grace in these unsteady times.