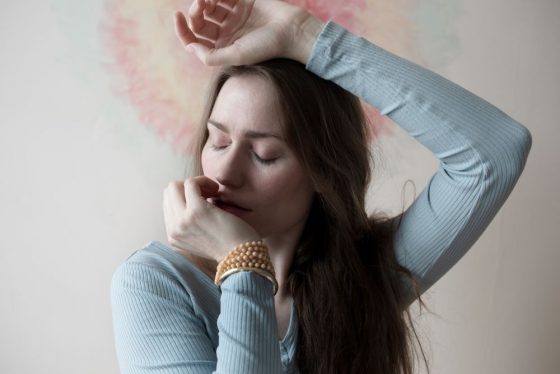 While it's been some time since Signe Marie Rustad once lived on the Norwegian farm upon which she was born and raised, her experiences there invariably shaped her into the artist that she has become. The forests, rivers, and fields surrounding her home encouraged a restlessness and serenity in her alike, and have been flourishing within her heart and mind ever since. Such is what pervades Rustad's work as a songwriter today, her textured Americana often recalling that storied balance between calamity and grace.
This isn't better exemplified than in her greatly anticipated third LP, When Words Flew Freely. Although it will still be a bit of a wait for its full release on 1 November, listeners can enjoy her first single, 'Die With Your Boots On', today. For Folk's Sake was recently privileged to receive Rustad's answers to our ongoing 'FFS 5' interview series, which you can read below…
Please tell us a bit about yourself. Where are you from and how did you get started in music? Any defining moments along the path to present day? 
I grew up on a farm on the outskirts of Elverum, Norway, with an American mom and a Norwegian dad. My way into music was singing along to songs alone in my room, or just laying on my bedroom floor with eyes closed, listening and daydreaming. Music to me is still very much a listening experience, I bring that into my songwriting. Kind of just anticipating, listening for, when the melody is just right, when it makes me feel good. I was never in a band growing up, and didn't play an instrument until I picked up the guitar at about age 20. That's when I realized that I had found a way of "capturing" the music I had been carrying around inside me for as long as I can remember. I always would have melodies, kind of inner music, going through my head when I was doing things on my own as a kid. Like when I was riding my bike: I'd make up a short melody and keep humming it to myself, like a song on repeat, and it would be like a mild force that helped me to move forward. With the guitar, I could find the exact notes of a melody in my head, on one string. That's how I started writing songs.  

As an artist, how do you define success? 
I was recently talking to a friend of a friend who told me that the band he plays in occasionally takes a trip up to a cabin to play music and hang out. He told me that to close off these sessions, they have a ritual that is to lay down on the floor and close their eyes while they listen to a song of mine called "Mexican Standoff" (from my 2016 – album Hearing Colors Seeing Noises). To experience that I am connecting like that with others through my music, that we are tapping in on the same emotional frequencies – that adds a whole lot of meaning to what I am doing as an artist. That's the kind of success that means the most to me.  

What do you find to be your greatest struggle when it comes to the music business? 
I have actually written a whole song about this, called "Business Going Down", that pretty much sums up my concerns and struggles (there are obviously many, haha!). I hold back a lot, which has resulted in some might-have-been-opportunities passing me by. I dread networking, I go home instead. And when someone tells me to walk the walk and talk the talk, I sit down and say nothing. That's why it really helps to work with people that I care about, and that care about me. Having a team around me that I trust, makes the business-part of music a whole lot easier to handle. Sometimes even fun…but don't quote me on that. 

What do you think is the most realistic goal you can achieve as an artist/band? What do you hope to achieve? 
To make a living as a songwriter and artist. I hope that's realistically in reach. By that, I mean not having to take on other kind of work to support myself and my family. I hope that I'll be able to keep writing, and that I'll have the same urge and need as I do now to not make the same record twice. I really want to tour as much as possible outside of Norway as well.  

Outside of music, what do you like to do that you feel contributes to the creativity that you tap into for your music? 
My main activity for inspiration is to go on walks and listen to music. My most recent experience was walking home through town one evening while listening to Ray LaMontagne's 'Such a Simple Thing' on repeat. Good conversation with good people also inspires me a lot. 
Words by: Jonathan Frahm (@jfrahm_)