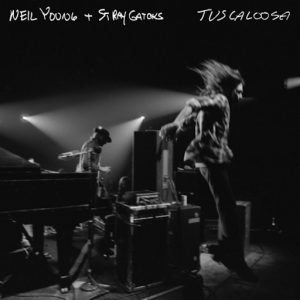 Ten years previously, George Wallace infamously stood in the doorway of the University of Alabama in a doomed bid to prevent two black students from enrolling.
Now here was Neil Young, on stage at the school's auditorium in 1973, breaking into the opening riff of 'Alabama'.
"What are you doing, Alabama?/You got the rest of the Union/To help you along/What's going wrong?"
The song is a brutal skewering of Alabama's civil rights record. It picked up where 'Southern Man' left off, and went further, so much so that Young himself later said he regretted how harshly the lyrics come across.
The audience in the room that night knew what Young was about to sing, but the roar that greets those opening chords is one of the most striking sounds on Tuscaloosa, a previously unreleased live album from February 5, 1973 and the latest dive into Young's treasure trove of archives.
This 46-year-old set captures Young and the Stray Gators touring their new record Harvest. It was the same tour from which he would cull his 1973 live album Time Fades Away, but this set – which includes only two tracks from that record – captures a very different feel.
Young had a mass of emotions in his head. Unnerved by his growing solo success, he had taken to confronting live audiences with unreleased tracks and shying from the hits (hence why Time Fades Away soon emerged while this set sat in the vaults).
And he was still mourning the loss of Crazy Horse guitarist Danny Whitten to a drugs' overdose, and four months later would record Tonight's The Night following the death of roadie Bruce Berry in similar circumstances, even if that record would not see the light of day for another two years.
Yet here he was, this outsider from north of the Canadian border, come to lecture the South in a state where Wallace was still in office, still standing on a message of segregation.
Young himself described this concert as "edgy", talking of a "trippy feel" of performing these songs in Alabama that night, and it's a mood that comes over on record.
The set starts out with 'Here We Are In The Years' from Young's solo debut and features a heavy mix of tracks from Harvest and After The Gold Rush, as well as the title track from Time Fades Away and future Tonight's The Night cut 'New Mama'.
But the record is most notable for including 'Alabama'. Together with 'Southern Man', the song would soon inspire Lynyrd Skynyrd to write 'Sweet Home Alabama' and launch the great feud myth between the band and Young.
After this tour, Young would play the song live only once more – in 1977 following the plane crash which killed Skynyrd members Ronnie Van Zant, Steve Gaines and Cassie Gaines – until it returned to his set-lists in 2015.
As ever with Neil, that was no accident at a time of the Black Lives Matter movement and rising tensions in the United States. Now, just as in 1973, Young has never shied away from doing what he has believed in regardless of the consequences. A forthright man with a forthright message for the world.