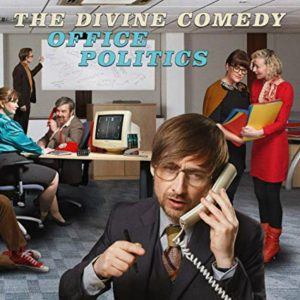 This year sees the 30th anniversary of the Divine Comedy's formation, Neil Hannon's chamber pop ensemble with a revolving door policy on members. Twenty years on from the end of their greatest commercial successes, Office Politics is their twelfth studio album.
This extended album, the first double of their career, kicks off with 'Queuejumper', released on Record Store Day earlier in the year. It's catchy as hell, with the refrain "I jumped the queue cos I'm smarter than you" being repeated throughout leaving the listener with an earworm that can last for days. The sound throughout is slightly different to what people would have down as "classic" Divine Comedy, featuring more synthesiser and effects, leading some tracks to have more of an 1980s reminding me at times of Pet Shop Boys.
'Norman and Norma', the official lead single, finds us in more familiar territory, with Hannon's storytelling ability at the fore, telling the tale of a couple who got married in Cromer in 1983 and fell into a marital malaise before discovering the joys of historical reenactments to inject new energy into their lives. A song that could've been easily written by Difford and Tillbrook or, at a push, Victoria Wood.
As with old favourites like 'Songs of Love', it's the ballads that speak to me the most on this album. 'A Feather In Your Cap' and 'I'm A Stranger Here' shows off Hannon's musical and lyrical chops and are the perfect balance to the more comedic numbers like 'Phillip and Steve's Furniture Removal Company' (Glass and Reich forming a removal company in their early days in New York, naturally) or 'The Synthesiser Service Centre Super Summer Sale'.
Not all the songs work but the longer it lives with me, it seems to reward repeat listens. Office Politics is too long and could do with having four tracks and fifteen minutes shaved off its running time but, at its best, is a fine addition to the canon that Neil Hannon has been quietly building these past thirty summers.