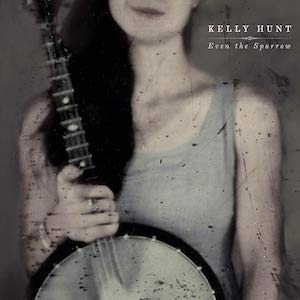 Kelly Hunt plays banjo in a way most other people don't. Her calfskin tenor banjo is unique, different than anything made today. "I opened up the case and it said 'This banjo was played by a man named Ira Tamm in his dog and pony show from 1920 to 1935′," she said. "I strummed it and said 'This is unlike anything I've ever heard.' People often think of the banjo as being rather brash and tinny – loud and kind of grating – but this was so warm and mellow, with an almost harp-like quality to it, very soulful." Her playing on Even The Sparrow sets her in a different category than everyone else.
Self taught, her songs shaped the playing, creating something unique. "It took almost two years to record (Even The Sparrow), learning how to let the songs dictate the production," she said. Confounding expectations, 'Delta Blues' features nothing more than a drum and her vocal, yet it remains true to its musical roots. Opening the album, 'Across The Great Divide' spells out a relationship that eventually comes to an end using little more than Hunt's tenor and a single guitar. Lyrically telling, it offers up a picture of her lover's new relationship, yet she's not completely over it: "My love is quiet, still waters run deep/Here comes the riot that's inside of me"
As impressive as Hunt's playing is her voice, recalling everyone from Dolly Parton to Norah Jones, but at the end of the day it's pure Kelly Hunt. 'Sunshine Long Overdue' sounds like Nick Drake played on banjo instead of guitar, while 'Gloryland' deserves to be heard in a Tennessee church on a bright sunshiny Sunday morning.
This is a most auspicious debut. From beginning to end there is reason to revel and rejoice. Banjo playing has never felt more refreshing and alive untied from the instruments traditional stylistic tendencies. Kelly Hunt creates a new tradition because her playing isn't informed by any stylistic tendencies. Even The Sparrow commands your attention, suggesting what we've heard is just the beginning.