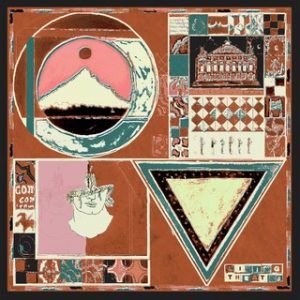 Founded by Quilt's Shane Butler in New York, the psychedelic-folk outfit Olden Yolk deliver an exotic wave of technicolour in the new album Living Theatre. As the project became a bigger thing than thought, the band expanded with singer-songwriter Caity Shaffer sharing centre stage with Shane. The result is an album which is on a whole different spectrum to their self-titled debut.
'240 D' mixes a flavouring of art rock with psychedelic folk. The experimental piece is a wondrous adventure into the minds of Olden Yolk. There's a sense of freedom blossoming the air with this number and a 60's revival aura. Next up, Blue Paradigm gets right up in your face. Showcasing Caity's gentle vocals, the slightly off-putting rhythm is memorable, but it's the hollow bass line that lingers after listening. Shane's subtle harmonies gives a helping hand for the production to build.
'Cotton & Cane' is a lot more personal than it sounds straight away. It tells the story of Shane talking to his late Father, who sadly passed away just before the song was recorded. Musically, it drifts in a hazy dream alongside a Morrissey-like charm. As a melody, it's simple but poignant.
'Castor & Pollux' lingers as an indie number that floats around a simple chord progression. It's the production that carries this elegant track to the end. This song also features the best vocal line from Caity on the album. "Violent Days" begins with a weird trio-hop flavouring that blends into an avant-garde indie track. It's strongly experimental and may take a little work, but stick with it.
Based around a groove, 'Every Ark' doesn't really travel to anywhere and dynamically stays the same. Repetition seems to be the formula for this track, and if that's what you're into, this is right up your street. Already released as a single for the album, 'Grand Palais' will fill your psychedelic folk needs right there and then with repeated listens.
'Distant Episode' sticks to the same momentum and proves that you can have your cake and eat it too. By that I mean, they can have all the psychedelic upbeat tracks as well as the downbeat, mellow ambience. The last track on the fantastic album is 'Angelino High'. Feeling slightly more dream like, this mesmerising instrumental plays like a lullaby you'd play to help fall asleep. Grasping all the precious moment into one as well as energy, Living Theatre gets the best of both worlds.