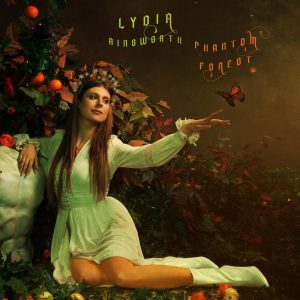 Lush, orchestral, and complex, the world of Lydia Ainsworth's Phantom Forest is virtually all her. This world she inhabits having written most of the music and lyrics, played the vast majority of the instruments, and produced the album in its entirety. As a one-woman show she has created something truly extraordinary.
Ainsworth uses a dream world to create what amounts to a play, "taking place in Mother Nature's vanishing home." Using the perspectives of herself, Mother Nature and a Greek chorus that "sets the scene, narrating and offering direction on how to enter the Phantom Forest." The ensuing journey is made easier by her charming voice an instrument that at times resembles Kate Bush, especially on 'Edge Of The Throne'.
Trying to find personal connections in a world adrift in overwhelming technology and facing the apocalypse head-on simply isn't easy. Yet Phantom Forest is also a call to action, changes need to be made. Considered by some to be pop, Lydia approached the music as an orchestrator, "the songs are like a score, each one an evolving journey. The album is one that works under headphones with lyric sheet in hand as well as on the dance floor.
From the opening strains of 'Diamonds Cutting Diamonds', Ainsworth's lyrics establish this is one collection requiring repeated listening's, "Baby hides her claws again, she's twitching but won't let it show, masking inner wildlife." The glitchy, computerised feel of 'Tell Me I Exist' is masked by her lyrics, "In leverage of your comfort to match a portrait's face that hand inside a museum, now hangs a database."
Closing the LP, she updates Pink Floyd's 'Green Is The Colour'. Using a synth heavy arrangement, Ainsworth gives the tune, and the record as a whole, an opportunity to reappraise who we are and what we know. Having already been nominated for two Juno awards, this Canadian is well on the way to her third with Phantom Forest.
[bandcamp width=100% height=120 album=2420630466 size=large bgcol=ffffff linkcol=0687f5 tracklist=false artwork=small]