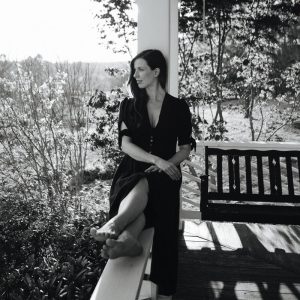 Joy Williams is finally back on the Front Porch. Her aptly title new record chronicles the comfort generated in returning both to her Nashville home and to the acoustic, folk-driven music she would play on her own front porch. Intimacy and simplicity are the keys. The electricity comes from not from instruments, but from performances that bring emotions to the fore.
Milk Carton Kid Kenneth Pattengale produced the album after a long conversation in a Nashville café. The intent was to recreate the sounds of a southern drawing room. As Joy recalls, "My mom has always said, 'Don't try more, try less.' And I remember thinking, if I get to making music again, I'm going to try and see what that sounds like." The results are a lesson in the strength of that approach.
Canaries have always been able to sense danger first, so 'Canary' deals with addressing unease and attempting to speak the truth, regardless of the cost. Williams wrote 'The Trouble With Wanting', a song about how devastating desire can be, while sitting on the front porch with Natalie Hemby, one of the co-writers for the album. It doesn't take much to see Williams and her band, Anthony da Costa, Sam Howard, and Wilhelmina Frankzerda sitting on the front porch exchanging songs and stories.
For something like that to be successful there has to be a huge amount of faith in the singer and her songs. While 'Look How Far We've Come' may only be a touch under two minutes in length, but the sentiment, "We Got miles let to run, but we've only just begun," speaks volumes.
It's been a long journey for Joy Williams, first as a solo artist, to being a half of the Civil Wars, and now back to a solo career. Along the way she has had two children and returned to the place where it all began. Older, wiser, and now creator of Front Porch, an album that is as welcome as it is long over due.