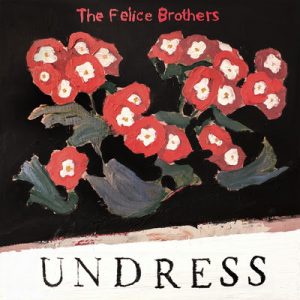 In 'It's Alright, Ma (I'm Only Bleeding)' Bob Dylan sings, "But even the president of the United States sometimes must have to stand naked" and on Undress the Felice Brothers have taken that notion to heart. Ian Felice makes it clear, "there are a lot of storms blooming on the horizon and a lot of chaos that permeates our lives. The hard part is finding simple and direct ways to address them."
Society's ills are on display during the album opener and title track 'Undress'. The Brothers throw out references to everyone from Kellyanne Conway to evangelicals, industrialists and anarchists, while making it clear everyone is naked at the final moment of truth. Opening his own campaign for president on 'Special Announcement', Ian sets his platform, "I can promise more berries on blue berry hill, I can promise you this, Charlie Parker on the ten dollar bill." In these uncertain times a sense of humour clearly helps.
Mournful pedal steel takes to the fore on 'The Kid', an examination of who is responsible for a murder by a veteran, the question becoming, "heaven knows the kid and the things that he did were wrong, but who is to blame? It's as much his crime as it is yours and mine." 'Salvation Army Girl' rocks out riotously on a bed of horns as Ian Felice lets it be known, "All of the junkies here agree, she looks a lot like Jackie Kennedy."
Song after song the arrangements are spot on, incorporating horns, banjo, pedal steel, accordion, keyboards, and guitar. Devoted to their craft and thanks to the production of Jeremy Backofen, Undress is one of the best sounding records in the Felice Brothers catalog. Ian and James Felice helm this addition of the band, featuring drummer Will Lawrence and new bassist Jesske Hume.
The political climate on both sides of the Atlantic is shakier than at any time in recent memory. Undress is the Felice's attempt to navigate these muddy waters. They have come to their own set of conclusions. Whether you agree with them or not, theirs is a gift that has never been needed more.