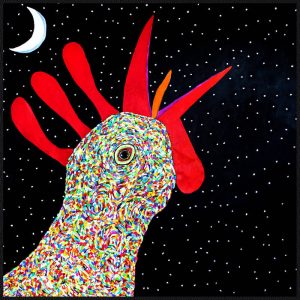 Daniel Norgren is an anomaly. If you close your eyes and listen to a song like 'Let Love Run The Game', you'd almost swear it was The Band, but with an unidentifiable vocalist. The music choogles along, sounding like something an unreleased Music From Big Pink track. The album is raw and energetic, coming out of the woods of upstate New York. Yet Norgren is Swedish, and Wooh Dang was recorded in a 19th century farmhouse in western Sweden.
Using a 16-track analog rig, he captures a sense of rootsy Americana that comes at you in surprising ways. 'Blue Sky Moon', the album's opener is actually more ambient than Americana. It wouldn't be out of place on a Brian Eno album. Just at the point you think this is anything but folk, 'Blue Sky Moon' begins to tease with what could be a demo version of 'Slow Glad' (the finished version appears later on the album). Slowly building, 'The Flow' is a piano and bass driven number vaguely Neil Young-ish in feel, is haunted and haunting in equal amounts.
There's no denying the chemistry between Norgren and his longtime band, Anders Grahn on bass, drummer Erik Berntsson, and electric guitarist Andreas Fliipsson. With Norgren on piano, eclectic electric guitar and vocals, the band churns through 'Rolling Rolling Rolling'. "I can't sleep at night, I'm yearning, and I wonder how long this same old song will carry on." The confessional doors open wide on the piano driven, 'So Glad'.
Norgren channels his inner Bob Dylan on 'The Day That's Just Begun', "You're coffee in my cup, you're the one who woke me up, and you're the day that's just begun."  Using nothing more than piano and harmonica, it's straight out of the New Morning songbook. 'Wooh Dang' closes the album with a short piano flourish that fades into the sound of a honking goose.
Inhabiting a space both traditional and modern, Wooh Dang feels like a lost slice of the American dream. It plays out at a measured pace and delivers its gifts like a landscape slowly unfurling before your eyes. Take in the vistas and enjoy the ride.
[bandcamp width=100% height=120 album=1012402831 size=large bgcol=ffffff linkcol=0687f5 tracklist=false artwork=small]