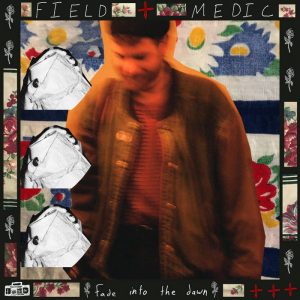 Life gets messy and Field Medic embraces the mess in all its rambunctious, unruly glory. Recorded digitally, fade into the dawn sounds nothing like your standard digital album, largely because Kevin Patrick Sullivan decided to record each song in a maximum of three live takes. It's all part of his ethos, "Any song that's true is a good song in my mind." So sparse is the rule, not the exception.
When Field Medic and touring turned into Sullivan's full-time gig complications became a constant companion. He moved from San Francisco to Los Angeles and decided to quit drinking, only to return halfway through a particularly tough tour. A bit of writer's block didn't make life any easier. Yet, he came out on the other side after relearning how to let go, "…the best songs are the ones that happen inexplicably, that feel like they almost come out of me against my will."
With guitar, drum machine, and banjo he strikes out on a path – one that's hard to ignore. 'used 2 be a romantic' begins this journey into a world where the reality of a touring musician isn't all that it's cracked up to be, "I need a cigarette, those fuckers talked over my whole set. But I don't have time to reflect, I gotta sell some shirts to try and make the rent." So much for romantic notions of touring.
While love comes in many forms, Sullivan deals in unvarnished truth. "The bottles my lover, she's just my friend, thinking of drinking when we're lying in bed," he croons on 'the bottle's my lover'. Uncertainty rears its head on 'henna tattoo'. Over a simple strummed guitar and drum machine, the chorus questions, "I've been feeling so insecure, like is it gonna come true if I say it? Rolling blackouts in your heart. Gave you a henna tattoo and it's fading."
Equally caustic and witty, charmingly self-assured and emotionally worn-out, Field Medic's fade into the dawn often sounds like a raw, questioning, quirky Woody Guthrie, yet just as often sounds utterly original. Greater than the sum of its parts, Kevin Patrick Sullivan has created music that is never less than emotional and entertaining.
[bandcamp width=100% height=120 album=191918722 size=large bgcol=ffffff linkcol=0687f5 tracklist=false artwork=small]