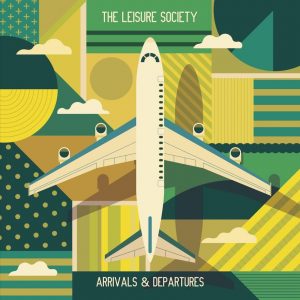 Ten years since Nick Hemming, Christian Hardy and co arrived with their award-nominated debut album The Sleeper, their fifth offering represents a rebuilding of sorts. The ending of songwriter Hemming's relationship with Leisure Society flautist Helen Whitaker, and the folding of the group's partnership with label Full Time Hobby are two obvious markers – although Whitaker still plays on the album and the three-year hiatus since their last record The Fine Art Of Hanging On has provided an expansive canvas on which to paint.

The result is a lush double LP mixed by Gareth Jones (Grizzly Bear, Nick Cave) with guests including fan of the band Brian Eno, who works wonderfully space-y synths across 'I'll Pay For It Now', and Black Country poet Liz Berry ('Leave Me To Sleep').

Split into two eight-song segments, the first, Arrivals, has Hemming looking for life in the fragments of lost love: "I notice you, now you're not here," he sings on the opening title track and asking for "a splint for my crooked heart" on the jaunty 'A Bird, A Bee Humanity'. The micro flits to the macro and then the cosmic on 'God Has Taken A Vacation' with its chunky rock guitar. This is all heading towards 'Overheard', which is classic Leisure Society – guitars sparkle, strings swoop, double-tracked melodies and harmonies build over a driving rhythm. It's matched by 'Be You Wherever', a lament in the mould of 'Tall Black Cabins' from their last album, with Morricone banjo and the dart-to-the-heart lines: "Corralled in the comfort of faith/we slipped through the open gate/and now we're all over the place." The entire first disc is the outfit on top chamber pop form, enough to make their hero Ray Davies proud.
Departures has a more experimental feel, while still fitting within The Leisure Society template. 'Mistakes On The Field' is a mostly instrumental two-parter in which the band unhinge, horns soothing over motorik bass pulse before fanfaring with flute; in a better world it would blast from summer afternoon festival stages everywhere. Hemming later lets fly on the fierce 'There Are No Rules Around Here', singing "Human nature made a mountain out of fear" which climaxes with the sound of an orchestra in a mosh-pit – chaos reigns. Between those, the depth of the frontman's personal despair is revealed in 'Leave Me To Sleep' which features the brilliantly simple lyric: "find me a new life to lease."

So, The Leisure Society are back with probably their best album since The Sleeper, more vital than ever – playful, stirring and never boring. Here's to that new lease of life.

@petebate