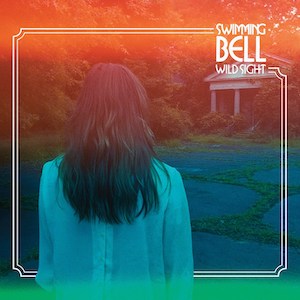 Lovely and strange is the perfect way to describe Wild Sight, the debut album from Swimming Bell. Enthralling vocals layered one upon another combine with simple instrumentation, treated to create otherworldly blends unlike virtually anything else.
Katie Schottland, who records under the name Swimming Bell, recalls how her mom "brought us to church when we were young, and I remember loving the hymns and the power of all the harmonising voices. It shook my bones."
Harmonies abound throughout Wild Sight, with instruments taking on textures in unexpected ways. Working with producer Oli Deakin, slide guitars ring out, yet just as often they are mixed into experimental beds of sound. But so much on this lp is unexpected, like her love 70s pub rockers Brinsley Schwarz She writes her own song, 'For Brinsley', based on the refrain of their classic, 'Don't Lose Your Grip on Love'.
Her unique use of soundscapes allows Katie to present the textures of the album live, but on record Deakin helps create landscapes that transcend basic instrumentation. 'Cold Clear Mountain', written by Tomo Nakayama, revels in its simplicity, while the following track, 'Wolf', is extensively manipulated, layer up layer. The handclapping that ends 'Wolf' also begins 'Got Things', which starts simply, before a chorus of voices comes to the fore. Starting from nothing, 'Love Liked You' builds to something huge, layer upon layer, then it's all peeled back again.
Concluding track 'Quietly Calling' begins with a single guitar strum and a few notes of acoustic piano before the steel guitar and atmospherics begin. Schottland's voice joins with a chorus of Swimming Bell's. Ending with gentle notes as the music fades away, again points out how this LP is more than the sum of its parts.
Swimming Bell's Wild Sight is a reminder of the power of music. From a few simple instruments; guitar, piano, drums , keyboards, and voice, something otherworldly is revealed. Katie Schottland has crafted something beyond the narrow confines ascribed to folk music.