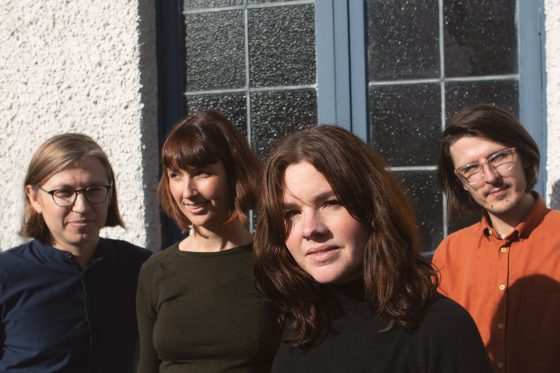 "You only had your Olympic girls/The frosted sheen of leotard twirls/Running revolt and winning gold/For the TV screen/Before being led back to the cells." So sings Hollie Fullbrook on the title track of her third album under the name Tiny Ruins.
More than a decade has passed since Hollie found herself on an overnight Greyhound bus from Dallas to Chicago, speaking to a group of men who had just been released from prison and handed a bus ticket to get home.
But their stories stuck with her, none more so than how they would spend their TV time watching Olympic gymnasts compete, enhancing their own feeling of incarceration as the athletes glided across the floor and twirled through the air.
"I wrote the song in 2017, maybe earlier," Hollie says. "It was a time when there was a lot of police brutality, when Black Lives Matter was taking off in the US, and it brought back that story to me.
"I've been thinking a lot about freedom, what does freedom mean to different people."
Musings on the meaning of liberty run right through Olympic Girls. It wasn't deliberate, Hollie insists, but an artist doesn't always see what's been on their mind until they look back at their completed work.
But whether she meant it or not, liberty is the perfect concept for the album to explore.
Bringing this record into the world was a five-year battle – against burnout, writer's block and record label politics – so its arrival has been a moment of release in more ways than one, giving the band a new freedom that is clear in their expanding sound.
The success of 2014's Brightly Painted One opened many doors for Tiny Ruins. They broke out of New Zealand and went international, spent a year on tour, and got to work with one of Hollie's heroes in David Lynch. But as the whirlwind went on, the difficulty of following it up seemed to grow.
"It took me a long time to recover from that amount of touring," Hollie says. "I had three or four months of feeling really burned out."
Hollie had brought back snippets of ideas from tour – sets of lyrics, guitar licks – but only a couple of songs were anything like in shape. Finishing the job proved tough as writer's block set in.
"I think it's partly getting older," Hollie says. "When I was young, I would write a lot more easily. With a little less judgment maybe. The thing I'm really proud of on this album, maybe it did take a bit longer, but it took a lot more internal digging."
Though the wait went on, Tiny Ruins were lucky in that the only pressure was coming from themselves. As they searched for a new label, they could work at their own pace, recording on a loose schedule in their practice space without the stress of deadlines.
"We're a very DIY band," Hollie says. "We don't have a manager, we don't have a big marketing budget or anything. There wasn't a whole lot of people going, 'You need to do this by this date'."
Finding a new label was also a major factor. Hollie had options, but felt a pressure to make the right choice.
"Tiny Ruins has been in many ways really successful," she says. "We've been lucky, we've managed to tour outside of New Zealand. For bands from New Zealand it's a really hard hurdle to get over in so many ways.
"We're really thankful for where we are but with this album I felt like – maybe all artists feel like this before they release a record – that this was our last chance to break through a bit more and reach some more people and sustain a career doing this.
"It feels a little bit scary when you reach your 30s and you're still at this level, struggling really, so I had a lot of hope for this album and I'm trying really hard to give it the best chance of being heard."
Those are ideas explored on 'How Much' – in which Hollie ponders the life of an artist and quickly comes back to the idea of freedom.
"When you're a musician you're kind of on the outskirts of society in a way," she says. "I found myself in a position where I felt I was on the outside looking on on structures of society – people going to work, doing this and that – especially when you're on tour because you're in a weird world, just sort of floating along.
"There is a sense of freedom in doing something like music so I guess you're thinking about that a lot.
"I think the song 'How Much' is about how do you keep doing this? How much can you put into this before you can't do it any longer? So it's about the nature of how free anyone really is.
"How much a part of all the systems you are without being able to escape them."
Freedom is not restricted to the lyrics of Olympic Girls. Tiny Ruins began as a solo project but has evolved into a band, with bassist Cass Basil, drummer Alex Freer, and Tom Healy, who play guitar and doubles as the band's producer, having played with Hollie for more than seven years.
In the years since Brightly Painted One was released, they have exploded their sound into a lush soundscape.
"Partly I think it's a natural thing to grow," Hollie says. "You get to a place where you really trust each other and you trust each other's ideas.
"I'm not going to be a dictator of where we go musically all the time. I want it to be a band. To me it was a group movement of, 'Let's go bigger, more experimental, and not hold back'.
"When you live and work as a musician, go to festivals, see more music, your tastes and your ears are expanding, I've been listening to a lot more noisy music so I was drawn to go louder."
The results can be heard on record, but even more so in a live setting, where the songs take on a whole new life.
That goes not only for older songs but the material from Olympic Girls too.
"We do go much further with the live stuff, even with this album we play the live versions even bigger than the album," Hollie says.
"You naturally end up becoming more confident with the material so you always want to push it.
"Live you hold back less, you're in the moment playing it to an audience and it really has a different feeling."
A feeling, no doubt, of freedom.