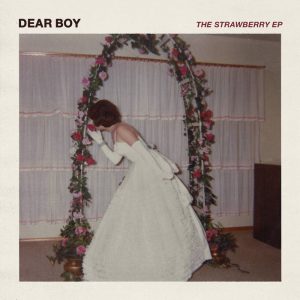 Hailing from Los Angeles, yet with roots in post-punk and Britpop, Dear Boy's infectious sound worms its way inside your ears and won't let go. Comprised of four longtime friends, Ben Gray (vocals, guitar), Keith Cooper (drums), Austin Hayman (guitar) and Lucy Lawrence (bass), on The Strawberry EP they serve up the kind of music that is in short supply these days.
The opening volley, 'Semester', according to Grey recounts college moments with an old lover, "when that person leaves, returning to your normal life feels strange. Almost as if the world moved on behind your back." Produced by the band, there are layers to the sound that give these songs a huge sound, even when it's stripped back.
The ballad 'Something Good' offers an exquisite, descending eight-note vocal run of "I" before Gray finally gets to "need something good." Described as a dark waltz, it goes into a lot of new areas. Gray especially points out how "Austin plays this beautiful lap steel solo that gets swallowed up by a choir of distorted ebows, a sentence I never thought I'd write, and it's like an Americana Mazzy Star thing."
Guitars blazing, 'Anything At All', is a peon to what might have been. "Please, I want it all to mean something, all to mean something, anything at all." Gauzy, but in a good way 'Love Interest' has a huge sound befitting a man who may be falling in love, "I'll tell you the secrets I meant to keep, and carry you home when you fall asleep." But at its heart there's always that question, "Yeah, I could be better, or what you need, and may be "finally…" will be someday soon." You just never know.
With appearances at South By Southwest scheduled, the spring and summer are up in the air. Yet the debut album has already been written. Until then let the earworms of The Strawberry EP by Dear Boy root their way into your aural cavity.