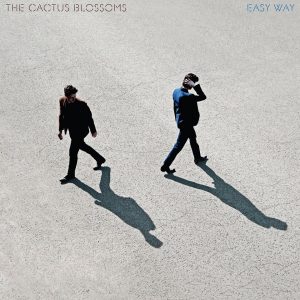 For The Cactus Blossoms comparisons to the Everly Brothers are something to be expected. They tread much of the same ground as the Everlys, it's just that they're sixty years down the road. The tight harmonies on Easy Way bring to mind familial acts like Don and Phil and The Louvin Brothers, but Page Burkum and Jack Torrey are a little more up to date than that. Growing up on The Beatles, along with vintage country and folk; the album features two tunes co-written by Dan Auerbach, Andrew Bird on sax, and Devil In A Woodpile's Joel Patterson on pedal steel.
It's not often you find an album that sounds modern yet still has the kind of classic touches Easy Way possesses. The Cactus Blossoms have spent time woodshedding and understanding what it takes to make a track come alive. Their single, 'Please Don't Call Me Crazy' illustrates that point. Feeling like it rocks out from the sixties, their lyrics are much more up-to-date, "I got a time machine, bought it off the TV, was a commercial break on Jeopardy." There is no doubting these two half-brothers know their stuff.
Yet a song like 'Downtown' almost feels like it could have been written anytime in the last half century. The same with Boomerang, right down to the guitar solo it feels timeless, as if The Cactus Blossoms could be Dave Edmunds and Nick Lowe singing tracks from the Everly Brothers songbook.
If there's a problem to Easy Way it stems from time signatures and tempos that don't seem to change very much. These are not one trick ponies, yet a bit more variety would have helped things from bending together quite so much. That's especially critical when The Cactus Blossoms have so much to give.
Jack Torry has called Easy Way, "a concept album without a concept." It moves in a world outside of time. The Cactus Blossoms have created ten songs for a generation that may have never heard of the Louvins or the Everlys. While there is a healthy respect for their elders, they are going down their own path. A path well worth taking.