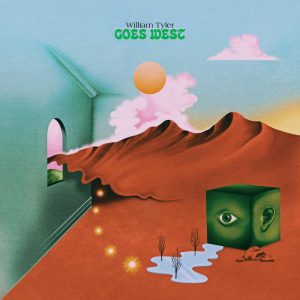 It's hard to believe baby-faced William Tyler is pushing 40 and has been forging his solo guitar path for over a decade.
After earning his left-field Americana stripes with the likes of Lambchop, The Silver Jews and Will Oldham, he is now on album number four (or five if you include 2008's Deseret Canyon under the moniker The Paper Hats) which marks Tyler's move from his native Nashville westwards to California. The Golden State certainly appears to rub off on Goes West; his brightest, most relaxed – and satisfying – record so far.
Choosing to stick to acoustic six-string throughout, Tyler is complimented by a seasoned, skilled band which includes guitar aficionados Bill Frisell and Meg Duffy, and bassist/producer Brad Cook (Hiss Golden Messenger, Bon Iver).
This gives Goes West a calm, crisp sheen along with shimmering breadth and depth. Nearly all tracks don't linger beyond three or four minutes – a rarity for Tyler – and there's a buoyancy on songs like 'Fail Safe', with its whirling guitar motif, that reels you in for more.
It's easy to let Goes West sprinkle over you as the best sort of background music yet full immersion is the better option. Then riches quickly surface: the mariachi detours on three-act opener 'Alpine Star', the expressionate, wordless storytelling of 'Call Me When I'm Breathing Again', the wistful resignation of 'Eventual Surrender', 'Man In A Hurry''s languid electric guitar which suddenly bursts into Nels Cline-like screeches….it's a long list.
Tyler drawers on a wealthy tradition of instrumental folk and country – channeling the spirit of Ry Cooder or even Mark Knopfler's best soundtrack work – while sounding totally timeless. Goes West's gentle, insistent propulsion sees him subtly but surely hit his stride, bringing welcome Californian warmth to these winter months.
@petebate