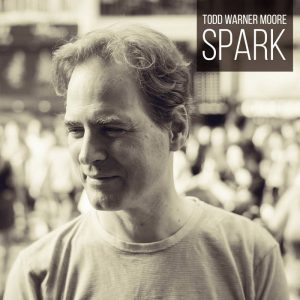 Although he now hails from Hong Kong, Kansas City's Todd Warner Moore speaks from the windswept prairies of the American Midwest with his brand of folk music. Predisposed to arrangements that at once feel insular and wide-open without an ounce of contradiction, the singer-songwriter masterfully composes reflective, contemporary folk. Spark is as evident of his consummate stylings as ever, from the get-go displaying impressive attention to roots music to either side of Cat Stevens as it is Van Morrison, striking an inherently warm vibe beside the intensely likable persona Moore sets out to craft by wearing his heart on his sleeve.
Musically, Spark is a smorgasbord. Moore has enlisted a series of talented artists to assist in conveying his vision into actuality, and the dedication that they've all served this release vividly shows. From the forward-driving percussion of the album's titular opener to the island rhythms of 'Noodles', each member of the nine-piece band Moore's brought on here all serve their own unique purpose. What's also crystalline here is the package's presentation through its production, since, especially for an independent release, Spark is surprisingly rich in its engineering. What often sets albums of this ilk apart from the masses of others attempting to more or less achieve the same thing is overall presentation — which between the passion and technique of Moore and his constituents is considerably respectable. So, props to Oliver Wagner in those regards.
All in all, Spark is well worth the listen. As 2018 very nearly comes to a close, its melding of respectable production and the calm between the storm that Moore and company evoke in their performances makes for an album as worthy of topping these last 365 off as it is making for one of the first works you dig into come next year.
Words by: Jonathan Frahm (@jfrahm_)