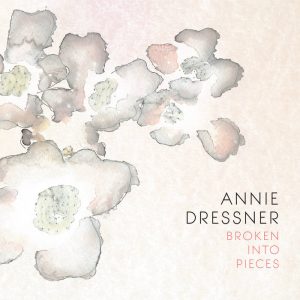 It's hard to convey why, when I first saw Annie Dressner play, I found her instantly compelling. Singer-songwriters with guitars often sound overly mild-mannered to me, but there was something special in the directness and purity of her voice. Her latest album, Broken Into Pieces, is tender and articulate. Its strength is grounded in reality, with all its imperfect elements, yet it still loves and celebrates life. A born-and-bred New Yorker now living in the UK, Dressner is inspired by her home town, giving her some kinship with the work of Suzanne Vega, Fiona Apple, and Regina Spektor. The occasional longing and restlessness in her music is sparked, and enlivened, by a sense of adventure: her protagonists are often exploring New York, or are catching a plane, as in 'Kentucky'. In 'Morning', when she sings "I'm still that girl," she sums up her own ability to re-animate the past.
Many of these songs tell stories of change. 'Fades Away' offers a sweet and heartfelt lullaby for the end of a relationship. 'Heartbreaker' remembers a lost love, warmly recalling the details of spaces and people left behind, although on this recording, the accompaniment is a little overdone; the frenetic drums seem anxious to cheer up the song, rather than giving it space to breathe. 'Don't Go' features a steadier, driving beat that works better, reinforcing the central drama, and 'Bruise Beneath My Bones' is one of my favourite tracks on this album, indebted to classic American folk. 'Over and Over' has a depth of sound that reminds me of First Aid Kit, describing circling and compulsive emotions, turning peace of mind into pieces of mind "stuck on push-play and repeat", while 'Get Out' is catchy, with a driving rhythm and witty lyrics: the banished person is "like a ghost whose finished business finished me". 'Paper Moon' captures the comfort and wistfulness of childhood, when it's remembered from an adult perspective.
So, all of these songs are highly listenable and absorbing, but the stand-out tracks, for me, are 'Falter', 'Numbers', and 'Morning'. 'Falter' is urgent and instantly makes me want to dance, with a perfect sense of rhythm, and memorable lyrics on doing what you want to do now, "or forever you'll be just a dreamer's thoughts in the air". 'Numbers' is, quite simply, an affecting, intimate song about difficult times. It seems to imagine a person on their deathbed, saying goodbye to their loved ones, and reminds me of Regina Spektor's 'Human of the Year', although Dressner's voice is very different. By the end it nearly moves me to tears. 'Morning' is the final track, and features choral, haunting harmonies that seem to elevate it into glittering air. It pushes open the envelope of Dressner's work, allowing a virtuosic, improvisatory joy, and more space to play, with instrumental solos surrounding the core structure of vocals and guitar. Since first meeting Annie and reviewing her work for For Folk's Sake way back in 2012, she's become a close friend, so it's impossible for me to review this without a sense of warmth. However, I don't think it's my own bias speaking when I state that Broken Into Pieces builds on the existing range and depth of her sound, giving exciting indications of what she might do next, as well as being a fulfilling work its own right.