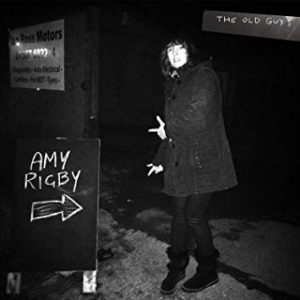 Age is just a state of mind, up to a point. No one really expected to see the Stones rocking into their seventies back in 1964. Yet that's where we're at today, and for Amy Rigby, at 59, she's rocking just as hard as ever. But even she acknowledges she's one of The Old Guys.
The thudding bass and slashing guitar riff kicking off 'From [email protected] to [email protected]' makes it clear Amy Rigby wants to rock out. On her first solo outing in over ten years, she's determined to make up for lost time. Imagining an email conversation to Dylan, Rigby/Roth suggests, "I'm gonna raise a glass tonight to you up there from some hotel bedspread in my underwear." There may be just a touch of jealousy that Dylan gets to revel in the applause while all Roth hears is a ticking clock.
Rock has always been a part of who Rigby is, It's been rooted in her soul since the early days with The Shams and her first solo album, Diary of a Mod Housewife back in 1996. Yet on this record she takes some time to look back over some of the people and places that play in who she is today. "If someone told you when you were 20, 'When you're 60 you're going to be playing in the corner of a bar,' would you really commit and be like, 'Good, that's enough for me'? I guess in a corner of your mind, it has to be okay. There's no guarantees with any of it.
Produced by her husband since and bass player Wreckless Eric, there's a unique set of instruments to match the experiences of Rigby's career. Yet at the heart of it there's the bass, and electric or acoustic guitar, and a keyboard. The occasional horn added to the mix raises the stakes to another level. Still, it's about the songs. 'Playing Pittsburgh' centres on her hometown, that's no longer home. Fairly or not, it has one of the album's great lines, "Andy Warhol's dead and in the ground, it's the only way they could get him back to town."
Rigby is looking at the world from a different point of view these days, having joined the ranks of The Old Guys. She has taken it in stride. It doesn't define her it's just where she is. But as long as she's allowed to sing she will. That's something we can be grateful to have in our lives.