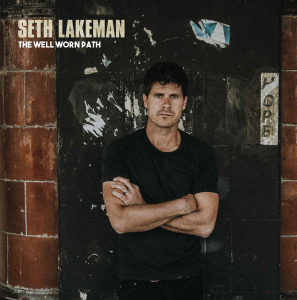 Seth Lakeman has a lot to live up to. It's not every violin player who gets a call from Robert Plant as he's driving his daughter to school and thinks it's a prank. Despite his initial disbelief he became a Sensational Shape Shifter and toured the world. He's also found time to record his ninth record, The Well Worn Path. Recorded in his home studio overlooking his garden in Dartmoor, this set features a crack band, Ben Nicholls (upright and electric bass), Kit Hawes (electric and acoustic guitar) and Evan Jenkins (drums) and the background vocals of his sister-in-law, Kathryn Roberts.
Produced by Ben Hillier (Elbow, Blur, Depeche Mode, Doves), Lakeman plays like a man who knows exactly what he is doing and revels in the moment. He describes the album as having "more of a prog-rock approach," which may seem a little extreme, but he has incorporated some of the influences of Led Zeppelin and the Robert Plant catalogs. The Well Worn Path benefits from Kathryn Roberts' voice, and interplay between her voice and Lakeman's and violin in the same way Led Zeppelin benefited from Sandy Denny's input on The Battle of Evermore.
There's definitely a Shape Shifter influence to the proceedings. 'Bright Smile' seems almost spooky, while the interplay between Roberts and Lakeman has vestiges of some of Plant's work with Alison Krauss and Patty Griffin. The violin playing of Lakeman moves back and forth between soloing and providing shading. The truth that seems evident in a song like 'Lend A Hand', "Carry your burden as far as you can, but change only comes when we all lend a hand," somehow seems lack in much of today's political discourse.
Lakeman recalls one of fights of Bob Fitzsimmons at the turn of the twentieth in 'Fitzsimmon's Fight', while 'The Gloaming', a duet between Roberts and Lakeman shifts into a higher gear as multi-layered fiddles come to the fore. Swirling violins add to the drama of 'Judge Not A Man'. Closing the record, Roberts' wordless vocals play off the refrain, "People come and people go, the well worn path is all I will ever know," to amazing effect as Lakeman's violin soars.
Bandying about terms like folk music often misses the point. With The Well Worn Path Seth Lakeman has created a work that calls on the past, while clearly having one foot set in the future.