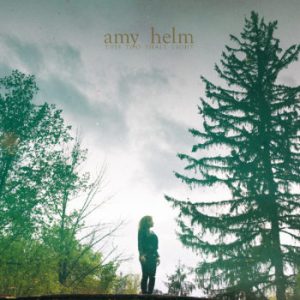 Sometimes the only way to avoid a struggle is to allow someone else to take the wheel. Amy Helm needed help in order to be set free when it came to recording her latest LP. Producing her first album herself became a lengthy process. Recorded at her father Levon's Woodstock studio, much of that album got scrapped and re-recorded, as she tried to figure out exactly who she was as a solo performer.
Joe Henry produced This Too Shall Light with the idea of keeping things simple, recording the album in just four days. He also took Amy out of her Woodstock comfort zone, recording the album in L.A., at the legendary United Recording Studios, home to the Beach Boys' Pet Sounds and The Mamas and The Papas' 'California Dreamin".
The song choices came from everywhere, The Milk Carton Kids' 'Michigan', 'Freedom For The Stallion' a classic Allen Toussaint track, even Rod Stewart's 'Mandolin Wind'. Again and again the songs are lithe and loose, benefitting from not being over thought out. Helm's singing gets to the essence of each track. One of the highlights is 'The Stones That I Throw (Will Free All Men)', a gospel-tinged tune from 1965, originally recorded by Levon and the Hawks during the brief period between leaving Ronnie Hawkins and hooking up with Bob Dylan.
Helm is not unfamiliar with the struggles that confront people. Her reading of "Everything will be everything, if we make it that far, baby, that's something" from the chorus of 'This Too Shall Light', makes that clear. There's still hope even as the darkness is rolling in. 'Mandolin Wind', while not a thousand miles from Rod Stewart's version, offers a woman's perspective of that horrendous winter on the farm.
Closing the disc, 'Gloryland', is a bit like going to church. Featuring unadorned four-part harmony from Helm, Allison Russell, Doyle Bramhall and Adam Minkoff, this is pure gospel gold. Like the rest of the album, it was done in one or two takes with no vocal overdubs. There was more than a little familiarity with the track since it was one of those songs that had been passed down from Levon's parents and then passed on again to Amy.
With a bloodline from Levon Helm and Libby Titus, there's no denying the musicality of Amy Helm's roots. What she does on This Too Shall Light is establish that she is in her own right a performer who continues to grow and develop that musical gift.