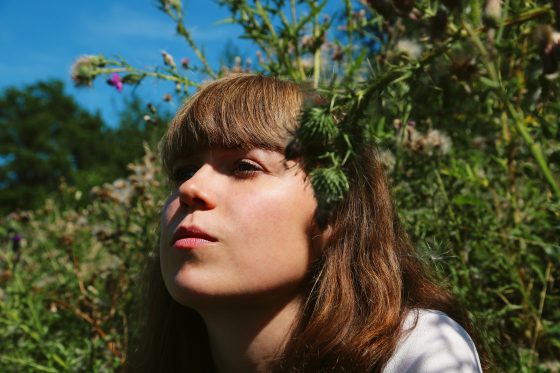 Alessi's Ark is back with the release of new single 'Devant Moi'. And it marks a departure for Alessi Laurent-Marke, who sings entirely in French, a mother tongue for the Hammersmith-born artist. What's more, the single has been released via Babywoman Records, a new artist-led community founded by fellow musician Charlotte Carpenter.
For Folk's Sake caught up with Alessi to discuss her new music and her new label.
FFS: The first thing anyone will notice about the new single is the lyrics. Why did you want to record in French?
I had long wanted to write a song in French, having always loved the language and the honesty and at times, courageous simplicity, of French songwriting. As soon as the guitar part landed for 'Devant moi', it felt like the right song in which to explore new lyrical terrain.
FFS: As a mother tongue, is writing in French something you want to do more of in the future?
Yes for sure! Whether as 'Alessi's Ark' or for another project, I'd definitely like to write more in French.
FFS: Who were the major influences you were listening to when writing and recording this single?
For the intimacy of the vocals ; Francoise Hardy's 'Chanson d'O', and for the sonic terrain, 'Sex Waves' by Bus Gas, off of their 2012 release 'Train Out', one of my favourite recordings of all time. I worked with Jason Santos, from the ark, and walking along the beach close to where he lives in East Sussex, was also very inspiring.
FFS: You've signed for Babywoman Records, an artist-led project. How does it differ from the other labels you have worked with?
Babywoman Records is a loving space for artists. No compromises – – just pure music and pure connections between the musicians and the listeners. I'm very thankful for the opportunities and experiences from having worked with different labels over the years. It feels right to be working with Babywoman for this release.
FFS: You're heading out in November on a tour which will take you around the UK and on to Belgium and Germany. Where is your favourite place touring has taken you?
There is magic to be met everywhere. People really make the places too. Touring in Japan has been very inspiring and enlightening, the US has been colourful and a creative catalyst over the years and the UK continues to change and bloom as more and more people come up and want to talk after shows. I haven't toured in Europe since supporting the Mountain Goats in 2014, so I look forward to returning. Touring is always about connection. That is one of the very special elements about playing live music ; the connections that are created with one another.
FFS: Next year will be a decade from the release of Notes From A Treehouse. Having started out in the industry so young, is there any advice you would go back and give yourself if you had the chance?
Listen to your muse, look out for your heart and serve the song no matter what.
You can hear Alessi's new single below, and keep scrolling to see tour dates for November, when Alessi will be on tour with Charlotte Carpenter.
Saturday 17th – The Playhouse, Northampton
Monday 19th – The Islington, London
Tuesday 20th – The Castle, Manchester
Wednesday 21st – Yellow Arch Studios, Sheffield
Thursday 22nd – Prince Albert, Stroud
Saturday 24th – De Log, Ghent
Sunday 25th – Kulturcafe Lichtung, Cologne
Tuesday 27th – Freundlich+Kompetent, Hamburg
Thursday 29th – Feinkost Lampe, Hannover
Photo by Wild Sisters