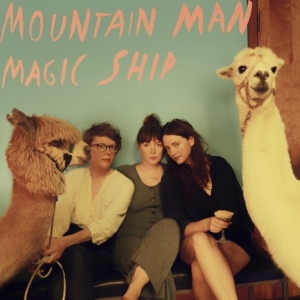 Almost ten years ago, Alexandra Sauser-Monnig, Amelia Meath, and Molly Sarlé spontaneously began a musical partnership while attending Bennington College in Vermont, which resulted in establishing the folk trio Mountain Man, releasing a full-length debut album Made the Harbor, and touring around the world.
Time off and a separate music project for Meath (Sylvan Esso with producer Nick Sanborn) meant years of wondering if Mountain Man was an ill-fated one-off. Fortunately, the word "breakup" was never spoken, so it was always a question of when not if the band would get back together.
Magic Ship is the eight-years-in-the-making follow-up, and it sounds like the three vocalists picked up right where they left off in Vermont.
For a folk album comprising mostly a capella songs, Magic Ship is surprisingly full and engaging despite its brisk 36-minute total runtime. It's actually more jarring when a guitar accompanies the melody such as in "Rang Tang Ring Toon" or "Slow Wake Up Sunday Morning" because the listener gets so invested and spellbound in the trio's vocal stylings.
It isn't until "Moon" that you realize how measured the guitar use is; in this case, to allow lazy, wandering dreamscapes to form and linger as the trio's soaring vocals rise and fall. In contrast, the following "Boat" eschews the guitar entirely and instead relies on hums to simulate the unsettling waves and unnerving feelings of sailing into a great unknown.
But American folk doesn't always take itself so seriously, and, thankfully, neither does Mountain Man, yet the subject matter is still very much grounded. "Underwear" starts off as a silly tune before evolving into a poignant lullaby about growing up to parents you love and admire. Even the whimsy of "Rang Tang Ring Toon" is rooted in the carefree do-what-you-gotta-do day-to-day grind.
Except for "Baby Where You Are" (Ted Lucas), "Blue Mountain" (Michael Hurley), and the traditional hymn "Bright Morning Stars," the trio wrote most of the album's songs, which each woman shared as possible Mountain Man material during a get-together on a rare snowy North Carolina day.
"Could we just sing these songs and record them and make an album?" demurred Sarlé.
If no one has answered yet, it's yes. Mountain Man's sophomore album Magic Ship is thoughtful, touching, and warm to the touch.
Words: Tan The Man (@dorksandlosers)