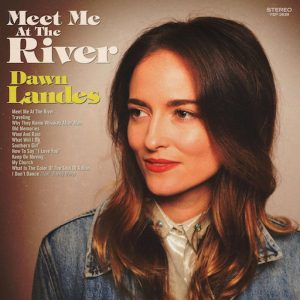 The career of Dawn Landes hasn't run in a straight line. She has always gone where the spirit moved her, never making the safe choice. That would explain why she released Covers, an EP of tunes by Bruce Springsteen, Tom Petty, Dolly Parton, Roxy Music, and Henry Mancini; not to mention a long player sung in French. It also goes a long way to explaining why her new album, Meet Me At The River is a straight ahead country disc produced by 86-year-old country legend, and Monument Records founder, Fred Foster.
Landes admits it took a hard sell to get him to produce her, "He didn't even Google me or anything. He never heard of me, so therefore I didn't really exist." But once he had, he enlisted the cream of Nashville's studio musicians, Foster created a special framework for her impeccable voice. While some may find this traditional countrified version of Landes off-putting, there's a simplicity that works well for her. "Simple is best in a country song. Elementally that works with all music, but it's just so obvious in country music. Say it plainly. Say something tongue-in-cheek. Find a new spin."
On a song like 'Traveling' she uses the plain and simple approach. With the steel guitar twanging, the chorus rings true, "I'm not looking for a pot of gold, not reaching for a hand to hold, I'm not searching at all, just traveling." The tongue-in-cheek takes over on 'Why They Name Whiskey After Men'. Using her knowledge about the male of the species, as well as herself, she makes it clear, "In spite of the pain you go back again, must be why they name whiskey after men."
Starting with just simple guitar and piano, 'What Will I Do' is one of those songs where Landes is searching for nothing more than a sense of direction and a loving embrace, "What will I do, where will I go, only the moon and stars can know." It's one of those simply heartbreakingly beautiful moments – a moment that works regardless of the format.
Artists like Dawn Landes don't follow a rulebook because there isn't one. They follow their muse. Where this path leads only time will tell, it's sure fun to go down this dirt road with her.